December 14, 2021
Francine Bass Hired as United Group's New Director of Sales and Leasing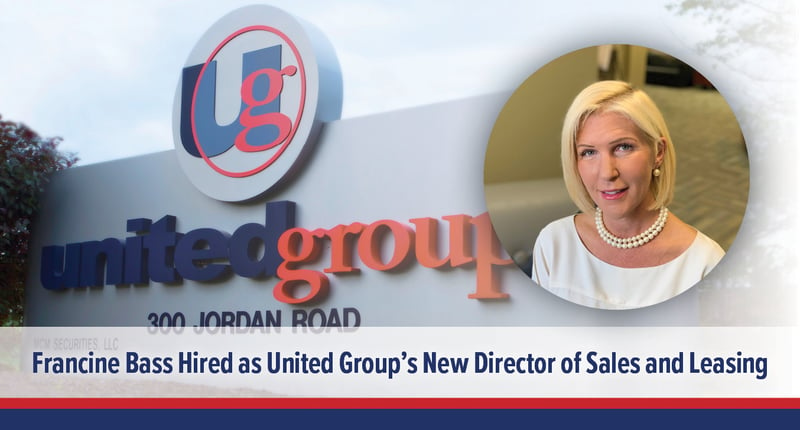 As we enter the final weeks of 2021, a year of unprecedented growth for United Group that saw our organization enter and expand its presence in several new, exciting markets, we remain committed to providing our residents with not only a best-in-class living experience, but the opportunity to embrace a hassle-free, community focused lifestyle custom fitted to their wants and needs.
With that in mind, today we are thrilled to introduce United Group's newest team member, Francine Bass, who will be playing a major role in these efforts as United Group's Southern Director of Sales and Leasing.
An industry veteran with over 20 years of experience managing and leasing up multi-family and senior living communities, Francine brings a wealth of knowledge and skill to her role with our organization. With a proven track record of success in all phases of real estate and property management, including sales, marketing, operations, training, market analysis, asset optimization and acquisitions, Francine will play an integral role in developing and maintaining our vibrant communities, advancing sales and matching our residents to their dream apartment homes.
In her new role, Francine will focus on generating and fostering an active and growing pipeline of leads and supporting sales and site teams throughout various stages of lease up efforts. Her creative strategies and in-depth understanding of real estate and property management have proven integral in attracting and retaining residents and have laid the foundation for prolonged success at luxury communities across the country. As a manager, Francine believes giving her colleagues the tools they need to grow and succeed to be crucially important, putting an emphasis on team building, talent development and mentorship.
Previously, Francine served as the Assistant Vice President of Sales and Marketing for Allegro Senior Living, managing a diverse portfolio of over 1,100 active adult units from pre-lease through stabilization, leading investor and internal reporting efforts and developing and implementing strategies designed to optimize team performance and results. Francine also played a key role overseeing talent development and career advancement as Altman Management Company's Director of Associate Development from 2013-16. From 2009-12, Francine's role as Greystar Real Estate Service's Community Manager further rounded out her industry expertise, earning her Manager of the Year honors for the Southeast Region, among other organizational accolades.
Francine has a Bachelor of Science in Management from Lock Haven University of Pennsylvania. She is also a licensed real estate broker in the State of Illinois. When she isn't at work, Francine enjoys reading, working out and spending time with her two daughters. She also loves to travel, with several favorite destinations including Washington DC, Asheville and Chicago.
Please join us in welcoming Francine to the United Group Family. We're thrilled to have her onboard, and looking forward to a bright future together!
Tag(s):