April 8, 2022
Keith Axelrod Promoted to Senior Managing Director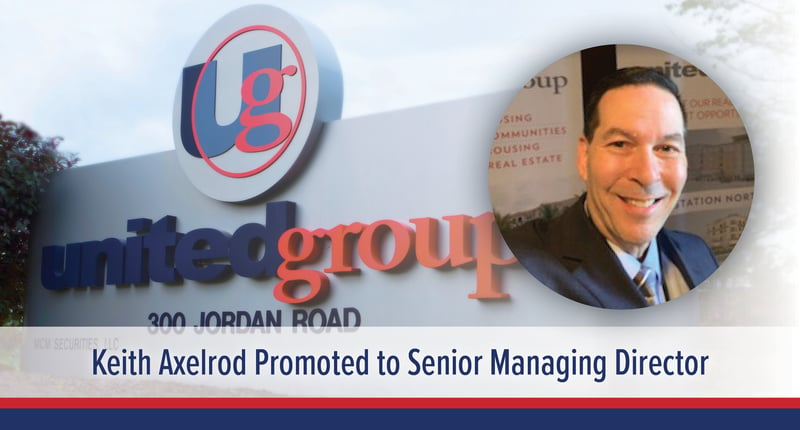 Today is an exciting day for United Group as we announce a promotion for a very important member of our team. Effective immediately, Keith Axelrod will be assuming the role of UGOC's Senior Managing Director. Please join us in congratulating Keith on this well-deserved new position.
Keith began his journey with United Group 12 years ago as an independent contractor. At the time, he was owner and operator of a marketing and advertising agency and video production company. In the early stages of his time with UGOC, he was tasked with creating presentations for potential investors, a responsibility he had for nearly two years before Michael Uccellini offered him a full-time job with the company, an opportunity for a new career that Keith happily accepted.
Now approaching ten years with United Group full-time, Keith has established himself as an integral member of our team. His original focus on investor relations quickly expanded to include several other responsibilities, including overseeing the financial side of entire development projects and brokering sales of properties. Keith's proficiency and willingness to learn and master new skills has proven to be a major asset for United Group, and has opened the door for him to play crucially important roles in countless areas of our organization's business activity.
About three and a half years ago, Keith was named Senior Vice President of UGOC's Broker Dealer, MCM Securities after passing the FINRA Series 24 Principal Exam. In this role, Keith oversaw the regulatory side of our brokerage, working closely with FINRA and SEC to ensure we maintain good standing with these organizations. His role has since evolved to consist primarily of investor relations, raising equity for our many ongoing projects, processing paperwork in our investor portal, producing reports and creating Private Placement Memorandums. His new position as Senior Managing Director represents an expansion of his role in this area, and we're confident that many achievements are still to come as he takes on this new challenge.
It's safe to say that United Group has Keith to thank for much of our recent growth and success. We're so grateful to have Keith on our team and are looking forward to many more years benefitting from his great leadership, expertise and tremendous skill. Congratulations on this promotion, Keith – you certainly earned it!
Tag(s):