June 18, 2019
On Campus Vs Off Campus: The True Cost Of Living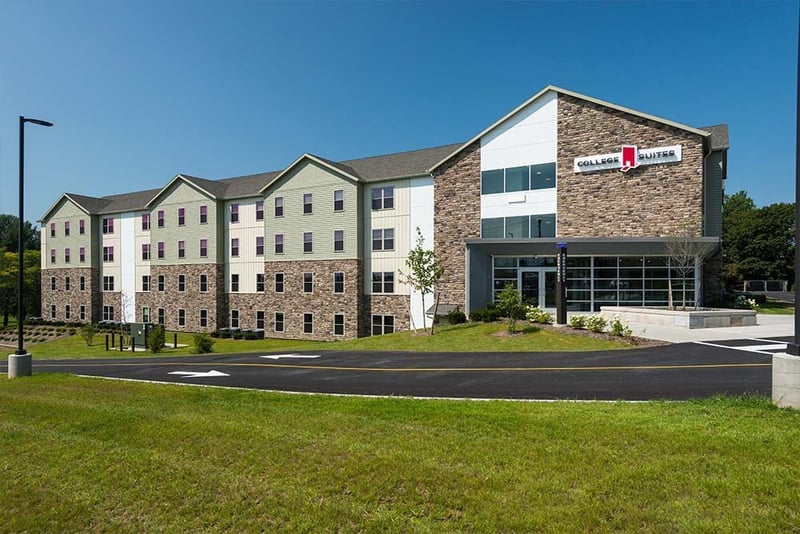 Before you make the trek to college this Fall, it's important to understand the many differences of living on campus versus living off campus. The six quick tips listed below will help guide you in the right direction and set you up to enjoy an unforgettable college and learning experience.
1.) Room & Board vs. Leasing An Apartment
Living on campus has its perks, you're close to your class's, classmates, and it makes you apart of a larger community. What colleges don't want you to know, is the fact that living off campus is much cheaper and potentially offers better living conditions. After researching local Capital Region colleges, we found that on-average the cost of room and board is $17,000 per year, with the most expensive being $23,000 per year. Keep in mind that isn't for a full year, this fee only accounts for the eight or nine months that classes are in session.
Alternatively, a lease agreement for nine months at one of the 518 College Suites on average is $8,200. Depending on room size and location, our cheapest student housing option is $6,000 for the school year. This means you can save anywhere from $8,800-$17,000 if you live at a College Suites, which are conveniently located in Troy and Schenectady, New York, with easy access to Hudson Valley Community College, Aesthetic Science Institute, Clarkson Graduate School, Memorial hospital School of Nursing, Paul Mitchell, College of St. Rose, Union College, Albany Law School, Albany Medical College, Maria College, Mildred Elley, Modern Welding School, Sage Albany, The New School Center for Media, Schenectady County Community College, Rensselaer Polytechnic Institute, Siena College, Russel Sage College, and University at Albany.
2.) Living Space
We all want to be comfortable, no matter where we are, and living in a shoe box sized room is not ideal for a comfortable work environment. Not only do you have to share a room, but you pay a whole lot more, the average two person dorm is only about 96-140 Sq Ft (shown below).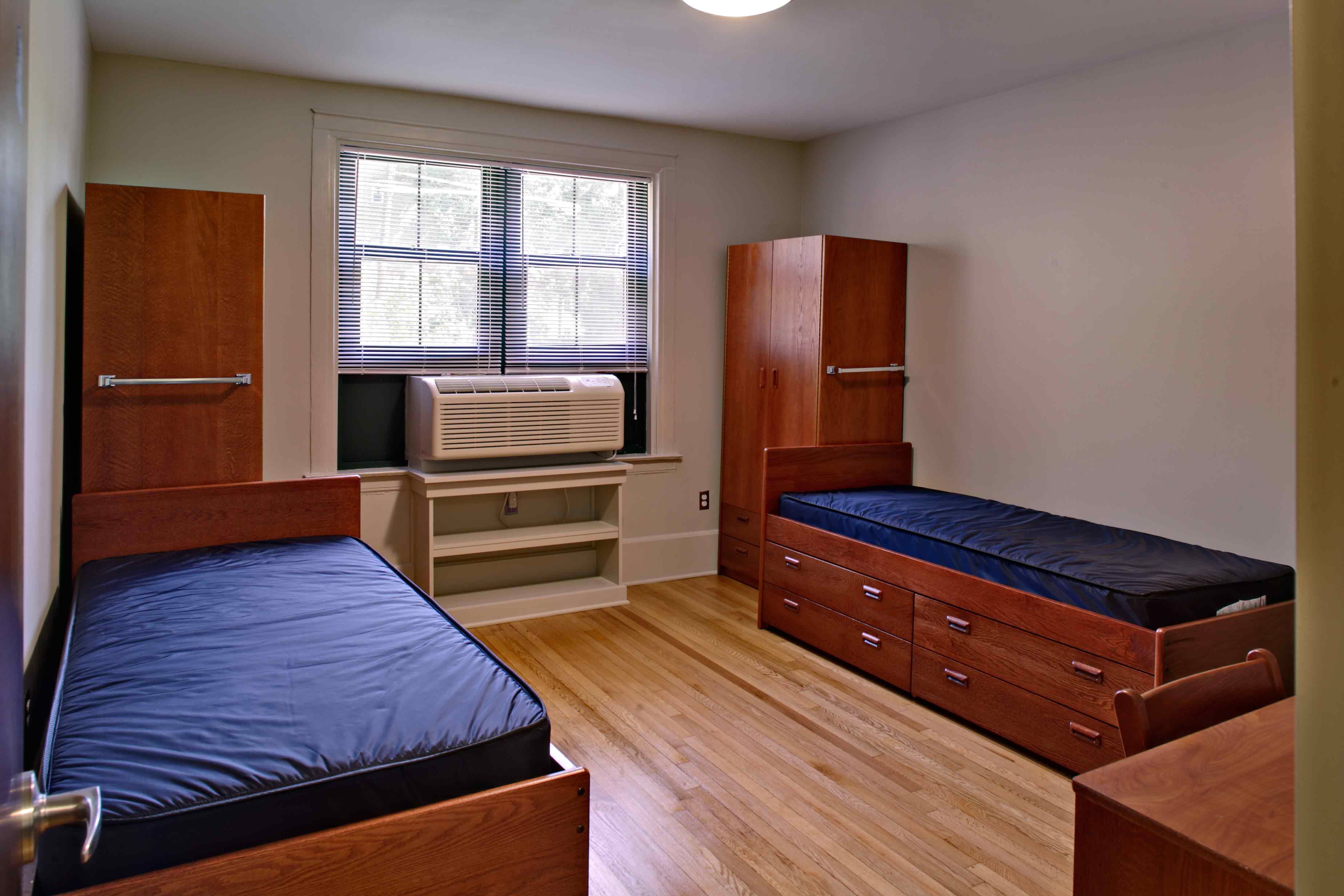 If your lucky enough to get a three or four person dorm room, you're still only living in a dorm that is approximately 180-300 Sq Ft. Not only are you giving up your privacy, but you are paying a whole lot more. At our 518 College Suites, we provide a better option.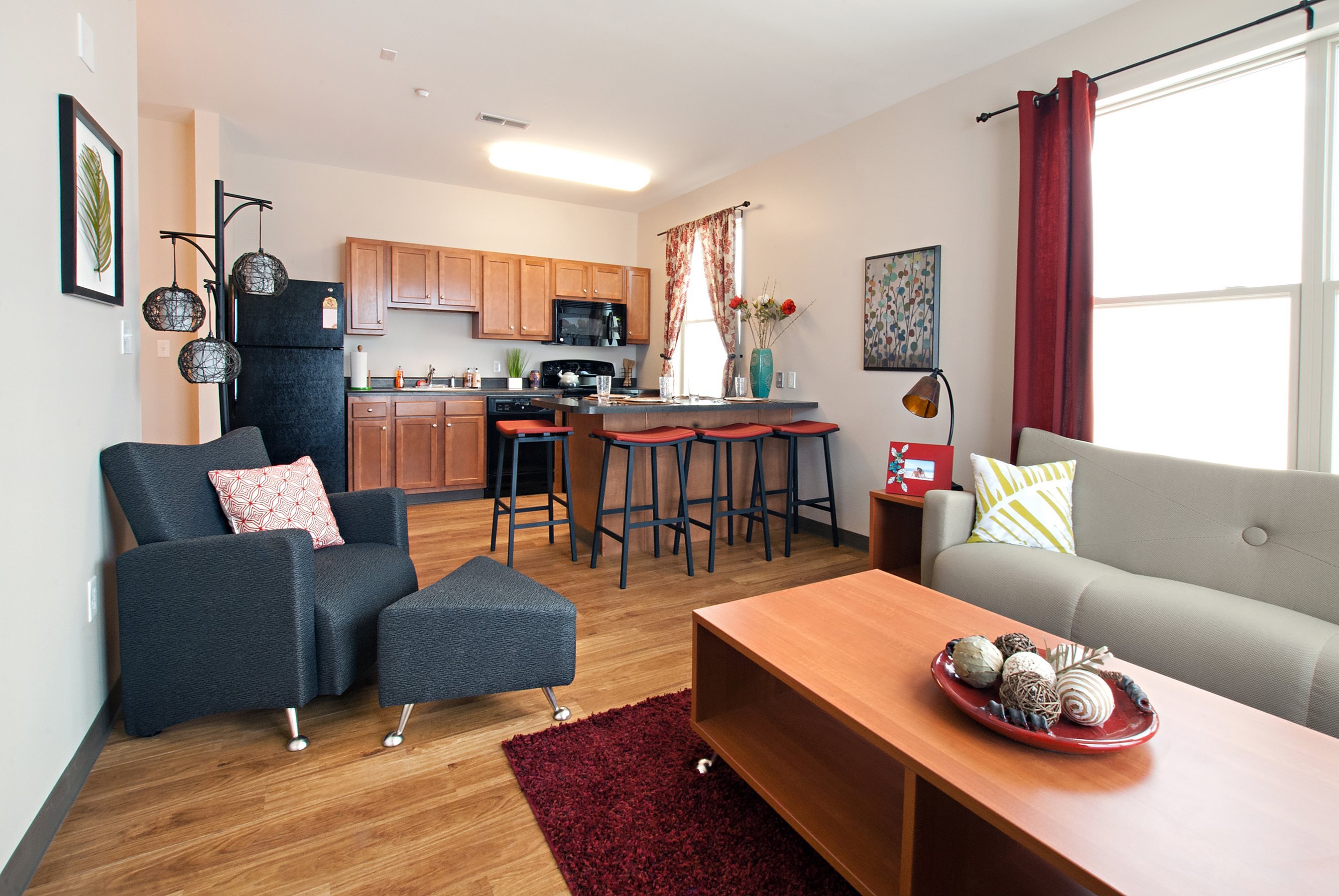 We offer two and four bedroom apartments with your own private bedroom, living room and kitchen. In addition, the two-bedroom suites are 700-800 Sq Ft and our three and four bedroom suites have 1,200-1,400 Sq Ft of living space. This provides our student residents the privacy and comfort they need to be a successful college student.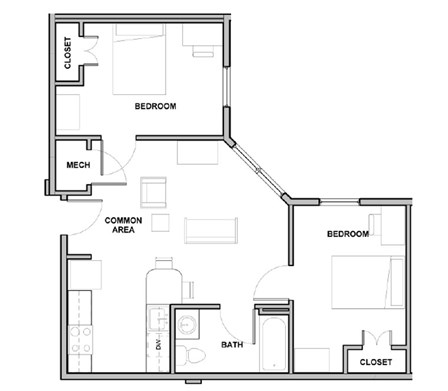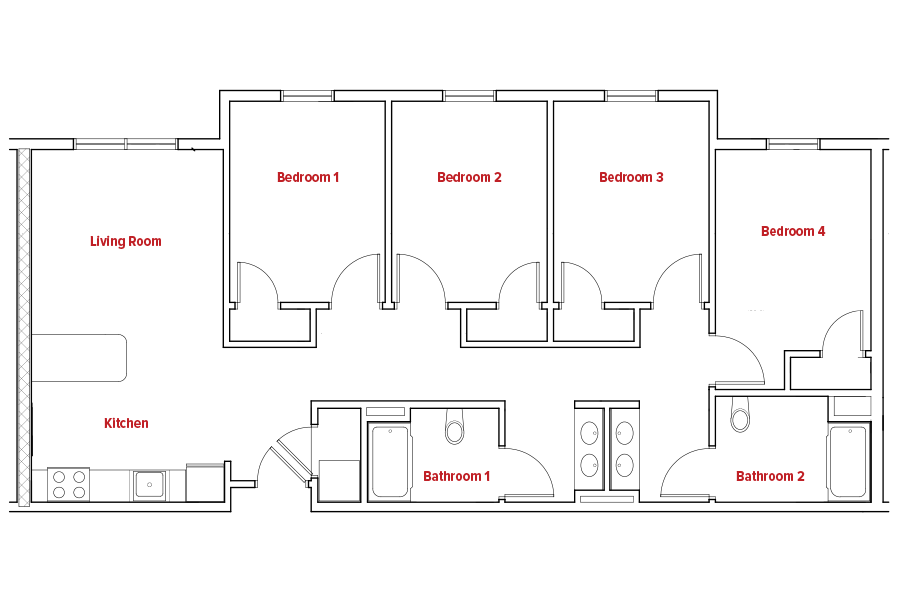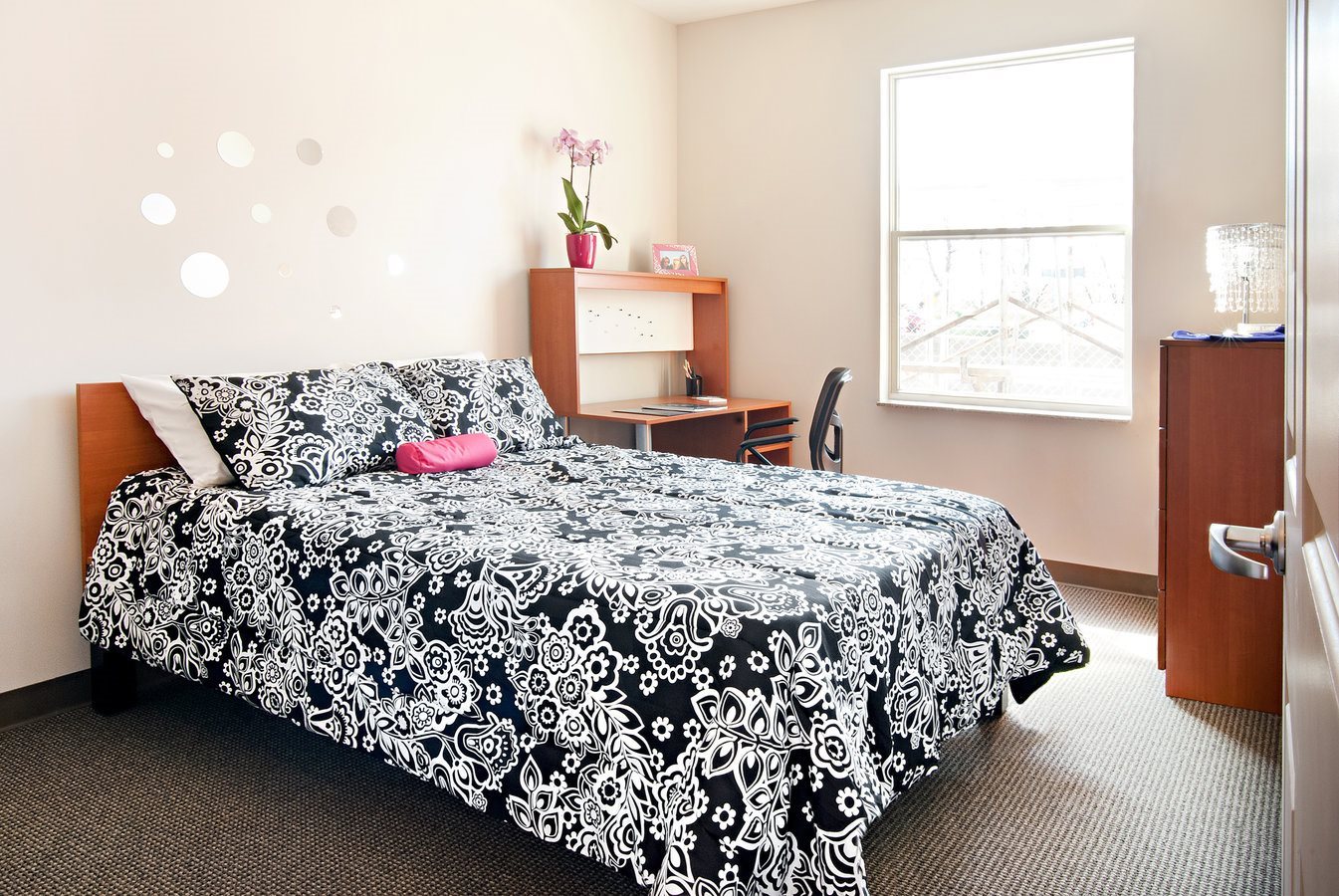 3.) Shared Bathrooms
No matter where we go in life, sooner or later we all need to learn how to share a bathroom. In a typical dorm setting you share a massive bathroom with your entire building. In other words, you could be sharing toilets, urinals, sinks and showers with hundreds of other students. As you can imagine this can get quite messy and left to your imagination, this can become the bane of your existence in college. Students who lease with us don't have to worry about these things, because all of our suites include one or two private bathrooms with a shower and vanity. This means when the bathroom gets dirty, you only have a couple of people to point fingers at. Not only is it the most sanitary option, but it gives you a great deal of privacy knowing there isn't thirty other people in the same bathroom as you.
Also, you don't have to worry about lugging your dirty clothes to a laundry mat, because the 518 College Suites have a community laundry room available with text notification systems when you're laundry is complete.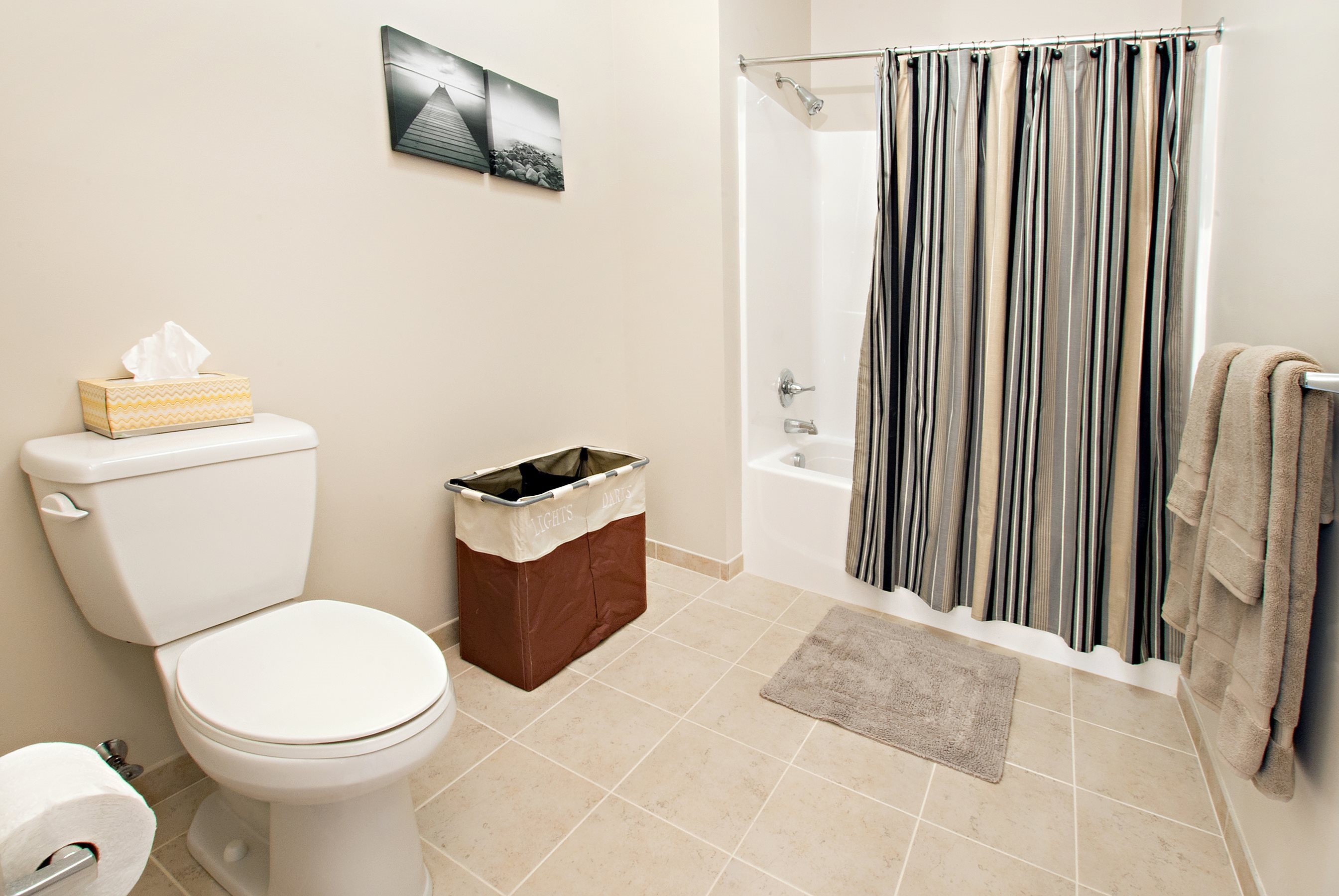 4.) Community Areas, Study Rooms, & Fitness Centers. Oh My!
You might have to trek across campus to visit a student lounge or study area, but at the 518 College Suites, you can simply walk down the hall and utilize the computers, printers and study rooms. You can't beat that convenience!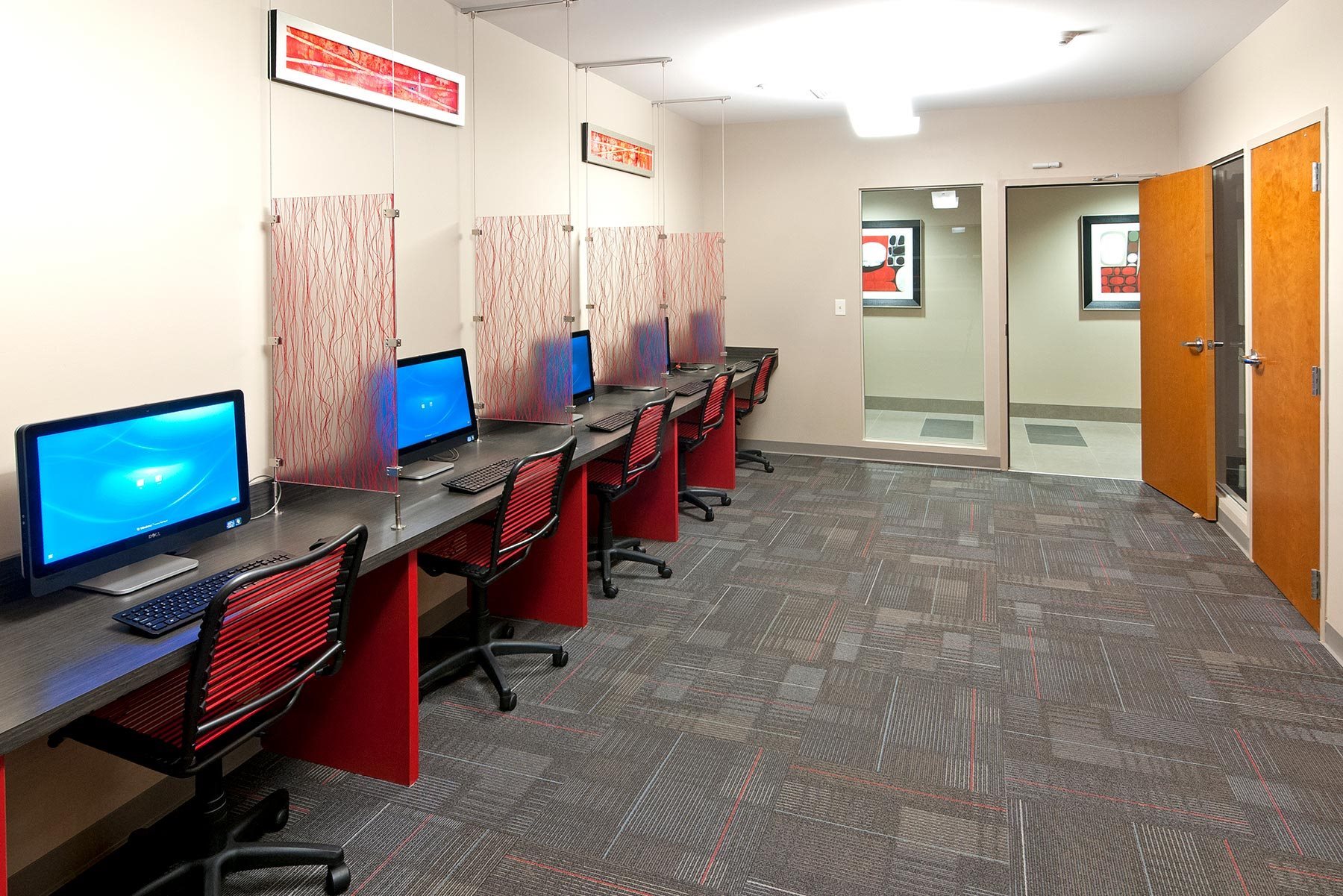 518 College Suites also offers state-of-the-art community rooms with exciting features like billiards tables, Foosball tables, couches, dining areas, flat screen TV's, and open kitchens. Residents enjoy an environment to interact, mingle and relax.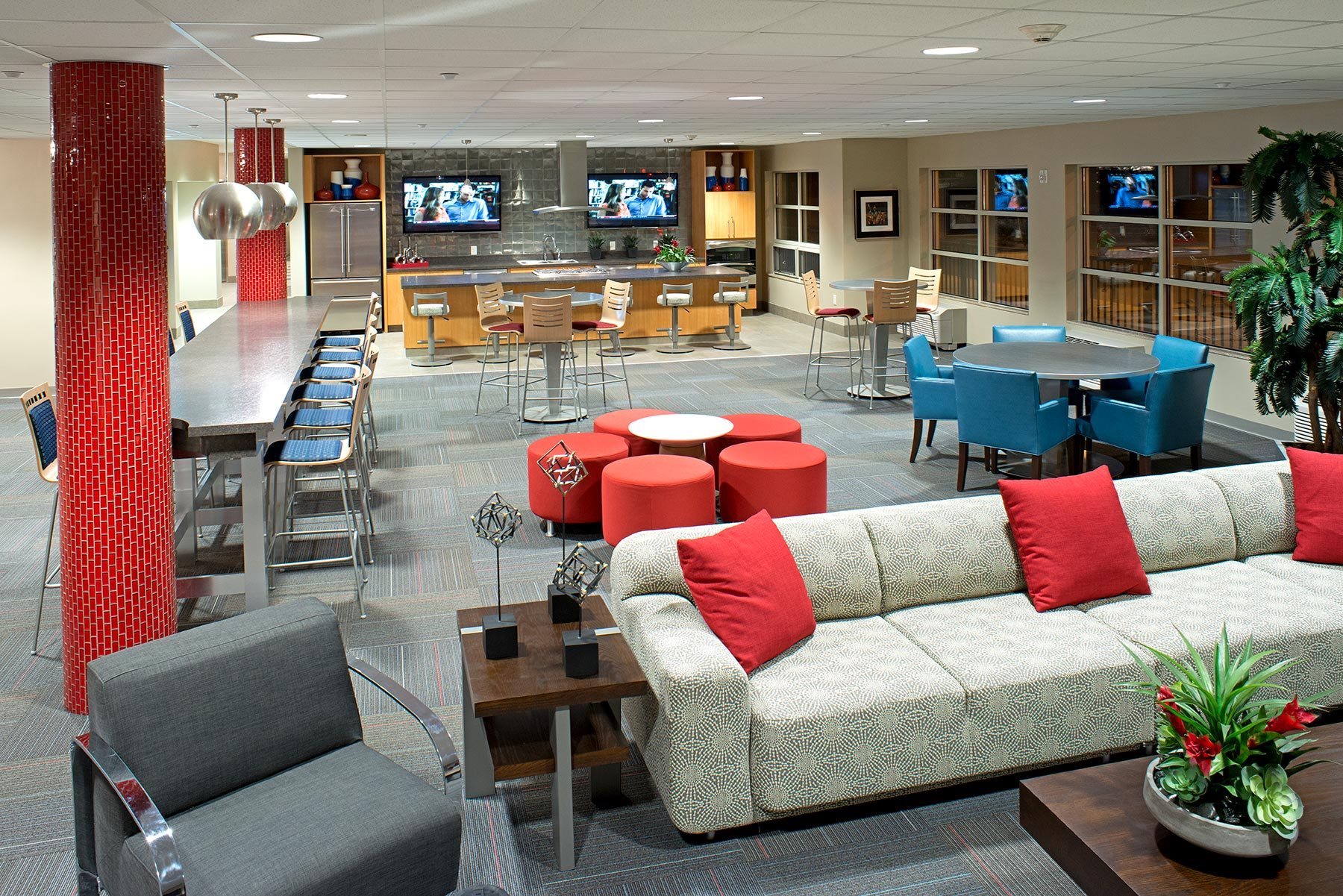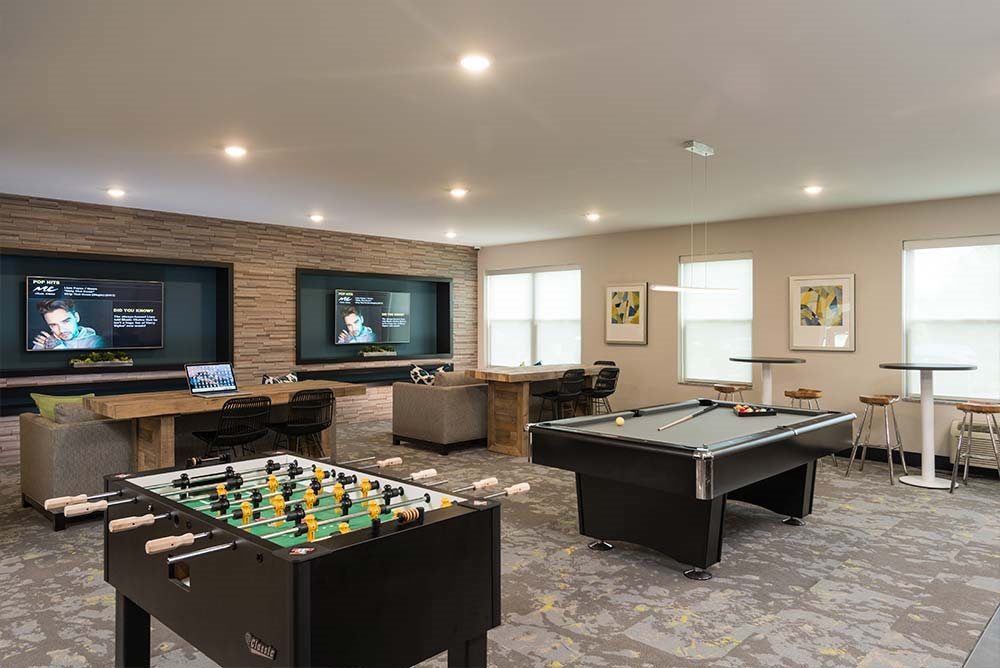 Instead of working out in a crowded fitness center on campus, the 518 College Suites have their own state-of-the-art fitness center equipped with free weights, weight training machines, treadmills, bikes, elliptical trainers and a yoga room. The fitness center is open at all hours (unlike college gyms) and draws a much smaller crowd.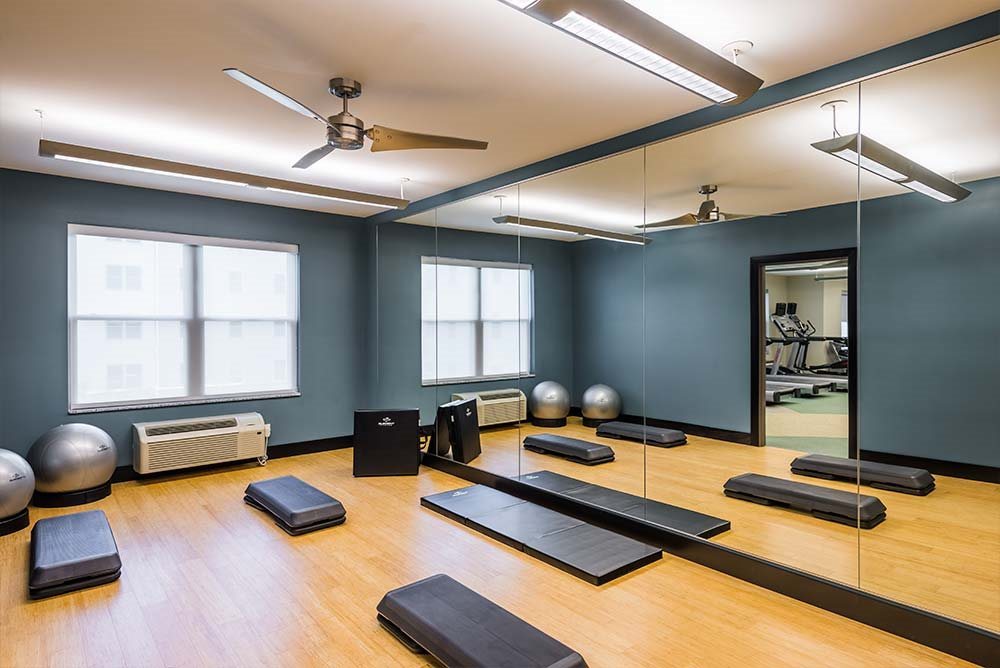 5.) Food Options
College meal plans can range anywhere from $3,200-$6,400 per year. Although a meal plan might be convenient, what if the campus food options aren't up to par? What if the sloppy joes are a little too sloppy? This means you are now stuck with a $6,000+ meal plan, and you'll end up spending money just to avoid the unappetizing food offered on campus. If you were to spend $50 a week on food, you would be looking at an extra $1,800 on top of your meal plan.
Our suites offer a fully-equipped kitchen with modern appliances, so you can enjoy home cooked food every single day and save money. The staff at the 518 College Suites also hosts several events with free food!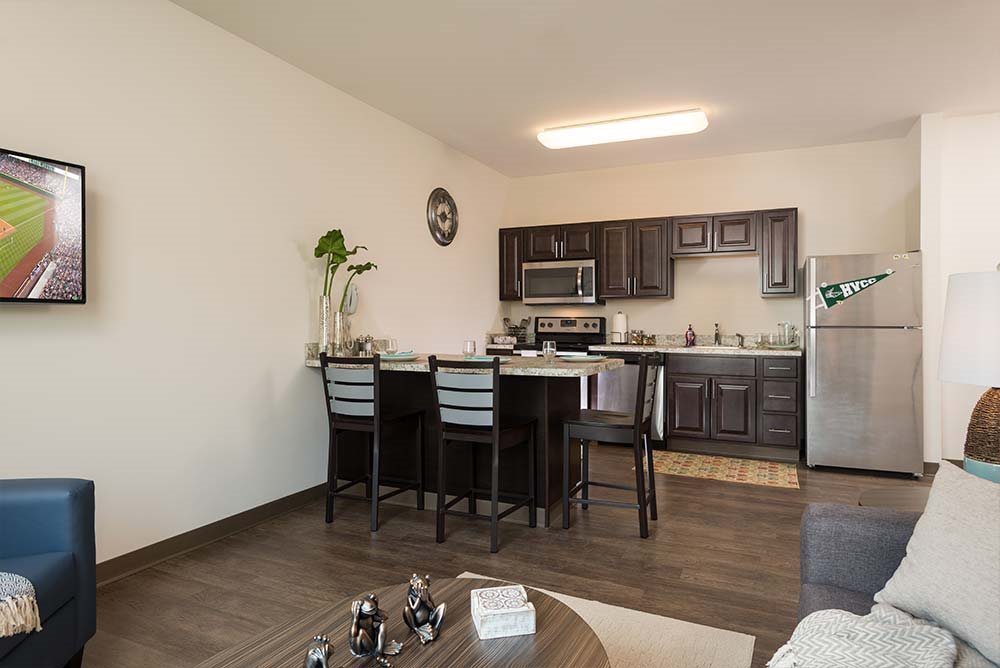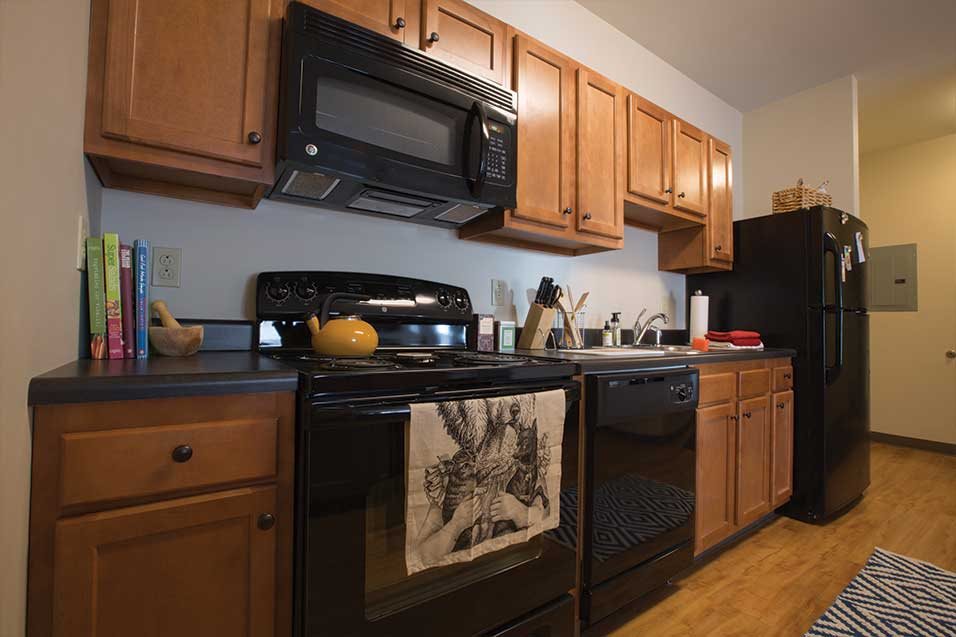 6.) Transportation
Every one of our locations has a bus stop within walking distance of the building and with a student identification you can ride the bus for free. In addition, we do offer parking for residents that own cars and a bike rack room that's available to residents. No need to worry about getting to class on time as a bus runs to the college campus several times a day.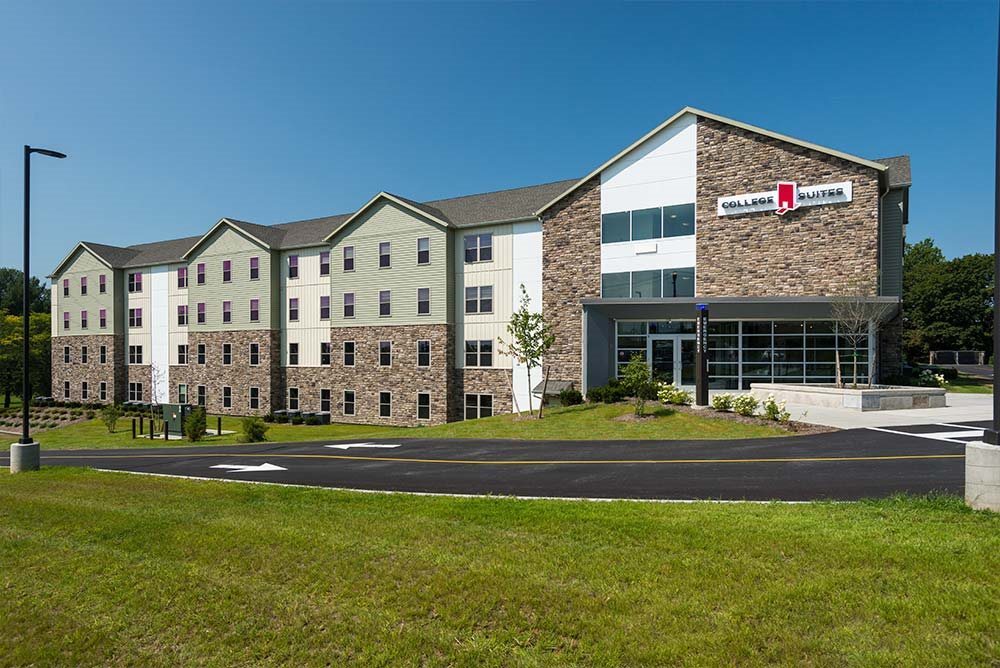 Tag(s):