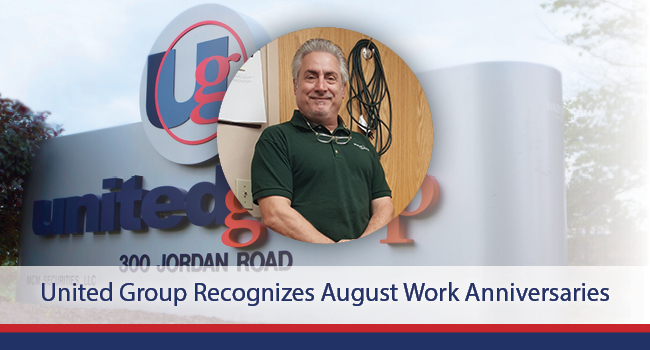 United Group Recognizes August Work Anniversaries
August 29, 2019
by:

Greg Eves
United Group is thrilled to recognize and celebrate Dino Morelli for his fifth year with the company. Dino is the Maintenance Supervisor at Wallkill Living Center, located in Middletown, NY. He's been a very lively and proud member of the United Group Family since his first day on the job. We appreciate his enthusiasm and dedication to his colleagues, employees and to the entire company.
Learn more about Dino's five years at United Group below!
Name: Dino Morelli
Work Location: The Wallkill Living Center
Role: Maintenance Supervisor
What do you remember about your first day with the United Group?
A warm welcome, 67 work orders and 4 turns!! lol
Are you in the same role? What has changed about your role?
Yes, same role but I gained a little weight and had to order larger work pants!!
Tell us what an average day at the office looks like:
Usually greeted by the early rise residents in our lobby. Unless there is an issue, it's all preventative maintenance starting with safety checks, clean up and improvements in and around the facility.
Tell us one of your favorite early memories from your office:
Three months after I first started, we had a call about no heat in an apartment. My coworker was very shy, and barley talked, came to help me change a Gosset valve in the water line. I showed her how to shut down the water to the line and I removed the valve only to find out that the shut off valve was faulty and the water sprayed me in the face knocking off my hat and soaking me to the bone. Well my coworker could not stop laughing as she watched me attempt to contain the water cannon that assaulted me. We both had a long laugh that day and still talk about it.
What do you love most about the United Group?
That's easy. It's like a family run operation. I feel free to talk with anyone from the company and there is always someone who is willing and able to help or be there for me when I need them. Never had this at any company I have worked for in the past.
What advice do you want to give yourself now, after working for the United Group during for past 5 years?
Keep on truckin.' There will always be not so great days, but my coworkers, staff and company will always have my back. Keep learning, keep growing, and expect the unexpected.