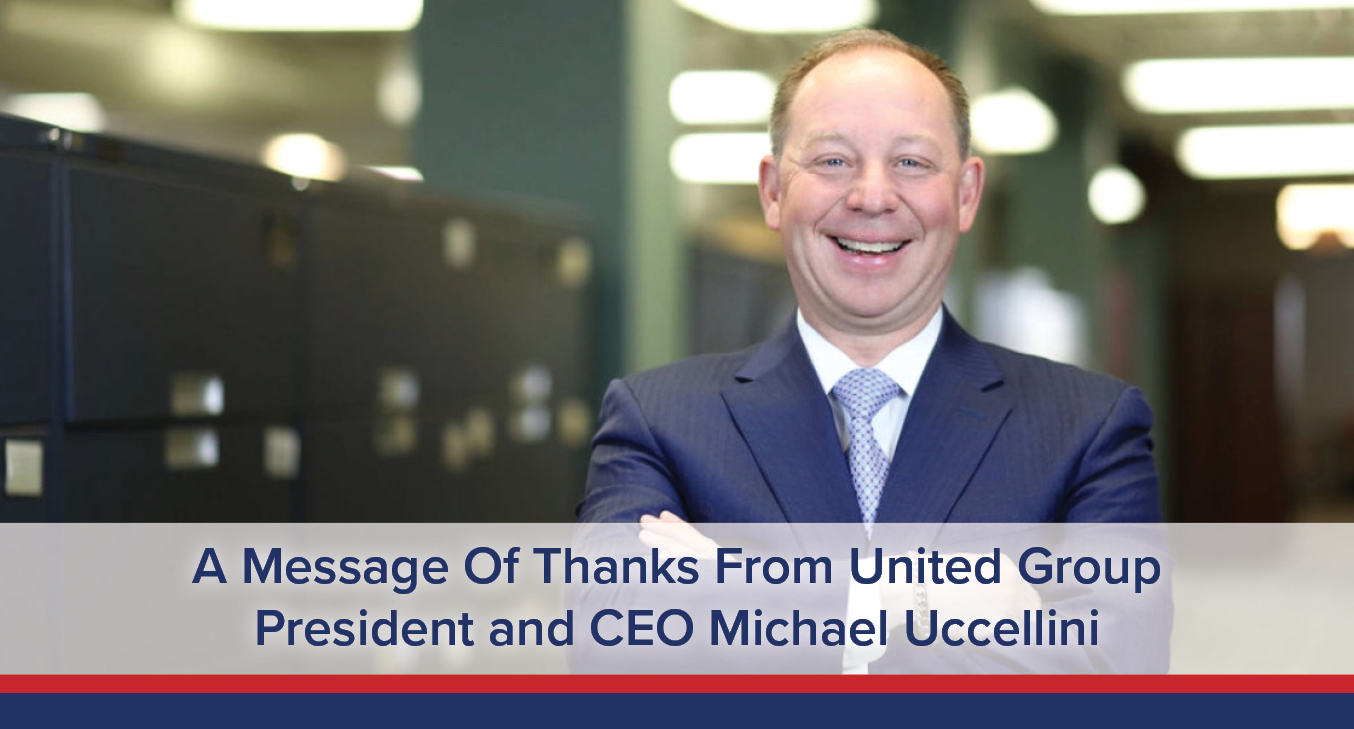 A Message of Thanks From United Group President and CEO Michael Uccellini
February 25, 2021
by:

Michael Uccellini
I want to thank all of you for all the warmth and heartfelt wishes and appreciation that you have sent my way. I feel very blessed to have been able to join United Group in February of 1991 after spending two years in the Securities Industry. Throughout my career at United Group, I have met many wonderful people and made many very special friends. I have learned so much over my career here and owe that knowledge to Walter Uccellini and the many other leaders and employees that have graced the United halls over the years. Thank you to all of you for helping make me better every day.
I was given a great opportunity by Walter to join the amazing organization he founded and started in 1972, and I cherish having been able to work with him for 21 of the 40 years he was our Chairman. Next year will mark 50 years for United Group, and we have so much to celebrate and a wonderfully rich history to look back on. As a company we have and continue to make a difference in people's lives every day. There is nothing more satisfactory than being able to help and impact an individual's life. I hope that you feel I am doing that every day in your life in a meaningful and positive way, as I navigate the United Group through the 21st Century with all of you. The United Group has changed many urban and suburban landscapes in a meaningful and positive way and has earned many awards and accolades for its cutting-edge programs, communities, buildings and vision. All of you and the many before you have all made the amazing successes of the United Group possible. The projects we create and manage make a meaningful difference in people's lives every day.
I know you have entrusted your careers and livelihood in me and others at United Group, and I take that very seriously. I am excited about all that we have accomplished together this last decade and I expect us all to accomplish fantastic things in the decades ahead. Again, thank you for your trust in me, your dedication, your tenacity, your wisdom, and your friendships.
All My Best!
Michael