May 13, 2022
UGOC SPOTLIGHT: United Group Celebrates May Work Anniversaries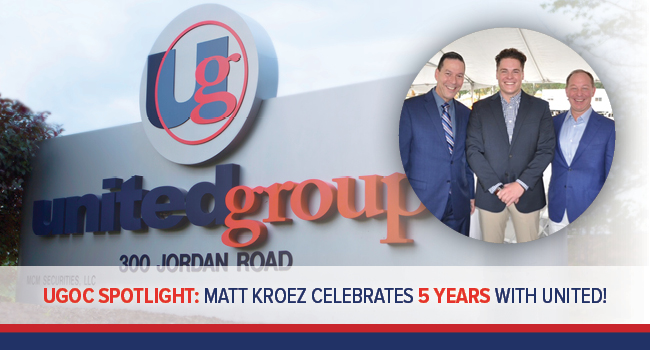 As we roll into spring, we have more to celebrate than just the arrival of warm weather because this month we recognize Matt Kroez on his milestone fifth anniversary with United Group. As an Operation System Specialist, Matt works tirelessly to ensure our Entrata and Yardi systems are working effectively and our teams are trained in how to use them, and he plays a key role in managing out IT and technical support across the organization.
Matt's quick response time, upbeat and positive attitude, and willingness to help in every situation contribute to reputation as a go-to person if you need to get something done. Matt is often the first to receive a phone call when property teams need help with events, move-ins, and resident training sessions, and he's the first to arrive ready to lend a helping hand. We also benefit from his competitive spirit and athleticism, making him an easy first round pick at corporate events and outings.
Unfortunately for Matt, he's also the target of jokes for his steadfast dedication to his hapless New York Jets football team. For all his hard work and dedication, you'd think he deserves a pass for his poor judgement in selecting a favorite football team; but nope, he's ridiculed and teased for his team's ineptitude.
Thank you for five great years, Matt! We're looking forward for many more to come.
Matt Kroez
Senior Operations Systems Specialist, Corporate Office
1) What do you remember about your first day with UGOC?
My first day with UGOC was very exciting. Before working for United Group, I had never worked in a corporate environment, or worked a corporate job for that matter, so walking into 300 Jordan for the first time was a great feeling I'll never forget! The second day on the job…different story. That was a full day training with on Yardi – so happy to have moved most properties to Entrata!"
2) Are you in the same role? What has changed about your role?
I just recently received a title change with a promotion, but overall, most of my work is the same right now. There's always new work to take on, so my role does change with those additions and new projects, but that's what keeps the job interesting.
3) Tell us what an average day at the office looks like:
I don't think I've had an "average" day here in my five-year career! Every day is different, but that makes it fun, so I'm not complaining. If I had to sum up an average day, before I was working remotely, it was 20 laps around the top floor to help with technical issues, 20 laps around the bottom floor for the same reason, and 40 trips up and down the stairs (now it's Zoom messages instead of laps). In between the laps/messages and emails, I work on Tracey's projects. That's about as average as I can get!
4) Tell us one of your favorite early memories from your office:
Those fitness fairs are a time!! The first one I attended was probably one of the best early memories with everyone from the office. It might have been the one with the volleyball game. It's all a blur when the competitiveness turns on. All I know is that if you find yourself on a team with me and Tracey, count yourself in for a couple free PTO days from HR.
5.) What do you love most about United Group?
I couldn't ask for better people to work with. Love the accounting team, love my coworkers in the corporate office, love everyone from the site staff, and glad I get the opportunity to meet and work with everyone from every level at United Group. I guess the short answer here is the people of UGOC!
6.) What advice do you want to give yourself now, after working for the United Group for the past 5 years?
Never turn down free food!! Just kidding (kind of). For real, it would probably be to never be afraid to ask the question. Tracey taught me this early on, and I still think of it today. With this being my first "real" job five years ago when I was hired, it took me a bit to find my purpose and role here. Like any new job, I finally found a groove with time, and it came when I started to ask questions. I would go into Tracey's office daily and ask her about certain things I was working on, or would go to my fellow team members if I didn't know something or wanted to learn, and with everyone's help, I found my place and it got me to where I am today. Simple advice, but it works.
7.) You're a known pizza aficionado. What makes a pizza great, and where can we all get a slice?
Man, that's a great question!! It's all about the base, the dough. Get a good crisp and fluff medium on the dough and you are set. Hard to mess up the sauce and the cheese part (just hit the supermarket for that stuff). For a slice, if you are at the corporate office, DeFazio's is your spot (cash only, so be prepared!). Don't get me started on the "pizza" in Florida. Might have to move home just because of that…