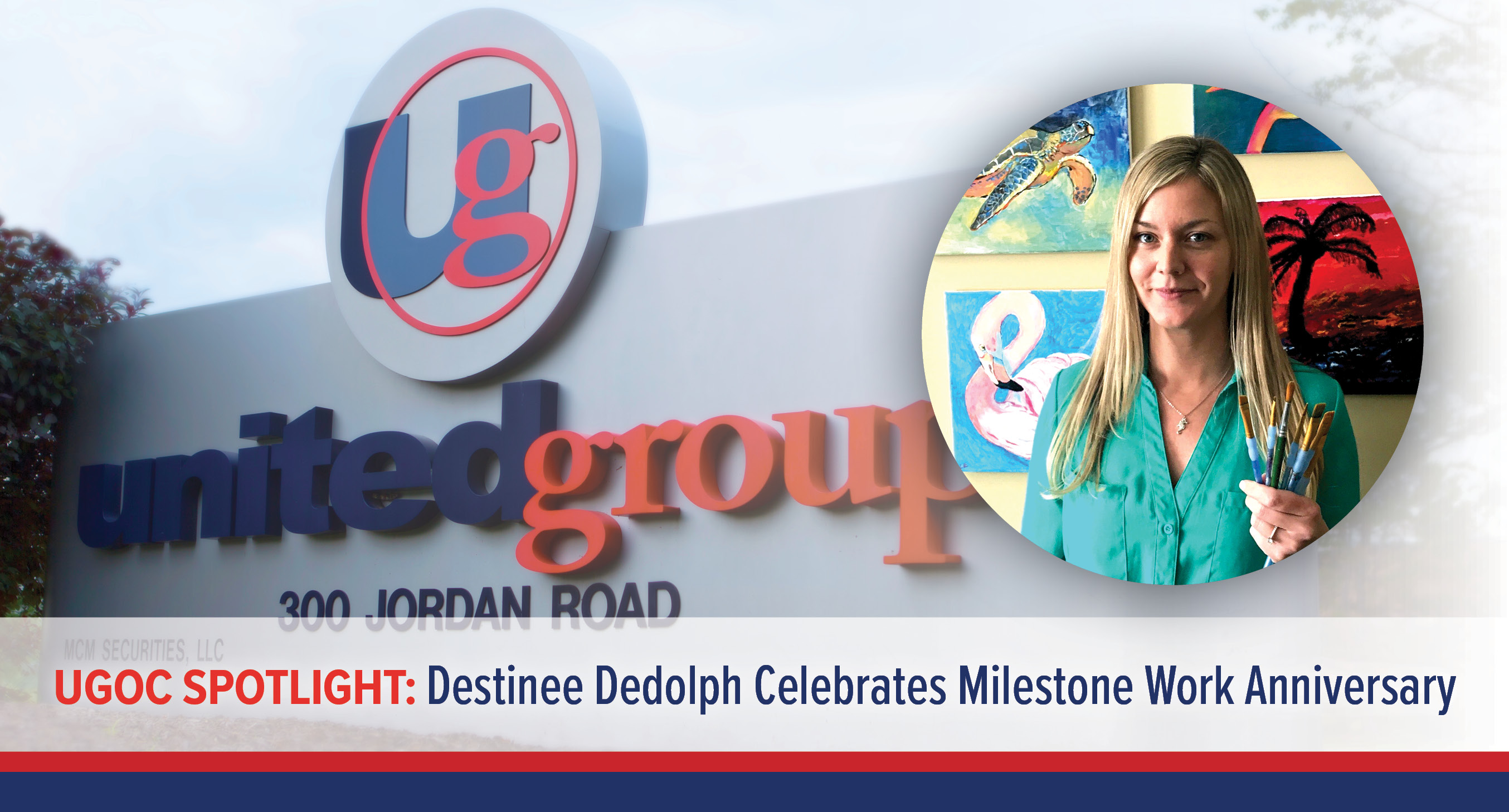 Destinee Dedolph Celebrates Milestone Work Anniversary
December 22, 2021
by:

Ben Golub
As we prepare to turn the calendars to 2022, the United Group Family has the pleasure of celebrating one final milestone work anniversary this year. We're pleased today to recognize Sandalwood Village Assistant Property Manager Destinee Dedolph, who recently reached the five-year mark in her career with United Group.
In her five years with United, Destinee has proven to be a true asset to our organization and established herself as a beloved presence at her community in Naples, Florida. However, that process began before Destinee's time as an official United Group employee even began. She first got to know our residents as a member of the property's third party catering staff, serving meals and getting to know our residents on a first name basis. Safe to say it wasn't long before we knew we had to make her a member of the UGOC team, and it was a smooth transition when she chose to officially join the Sandalwood Family.
Destinee began her career with us as a concierge, and before long her chipper personality, skilled approach to her job and willingness to go above and beyond earned her a well-deserved promotion to her current role of Assistant Property Manager. Whether she's assisting residents with their needs, working to match potential community members with their dream apartment or planning and participating in memorable events, it's clear that Destinee's primary focus is always providing a top-tier living experience at Sandalwood, a commitment that has not gone unnoticed by her residents and colleagues.
Whether morning or night, you'll find Destinee happily interacting with the residents at Sandalwood Village. Her pleasant demeanor, creative problem solving and can-do attitude have endeared her as not only a manager, but a co-worker as well. Destinee is a great listener, a skill that has gone miles in establishing her, not only as a top-notch Assistant Property manager, but as a co-worker and friend of the highest caliber.
Scroll down to learn more about Destinee and her time with United Group, and please join us in offering our heartfelt congratulations to her on reaching this work milestone. Congratulations on five years, Destinee, and here's to many more!
Destinee Dedolph
Assistant Property Manager, Sandalwood Village
1.) What do you remember about your first day with UGOC?
Residents asking, "What's for dinner?". I was already working for the Sandalwood catering company and the residents already knew who I was, from serving them dinner for months. They were happy to see a familiar face at the front desk.
2.) Are you in the same role? What has changed about your role?
I started as concierge and now I'm assistant property manager.

3.) Tell us what an average day at the office looks like:
Saying, "Good Morning!" to the residents as they enter for breakfast, or their daily cup of coffee and cookie. Checking emails, answering phones, processing invoices, working with vendors, taking prospects on tours, and helping residents.
4.) Tell us one of your favorite early memories from your office:
Teaching our first painting class at Sandalwood. Many residents had never painted before. Showing them how to paint Bird Of Paradise and seeing the excitement on their faces of what they created, gave me so much joy. We displayed their paintings in the front lobby. Many residents and family members said lots of positive comments about all their paintings, which encouraged the residents to want to paint more.
5.) What do you love most about United Group?
The feeling of family.

6.) What advice do you want to give yourself now, after working for the United Group for the past 5 years?
Actively listen to the residents when they tell you stories, be patient, share your knowledge, be yourself, and accept all snacks and treats they give you (try to not eat everything they give you, but tell them how delicious it was).