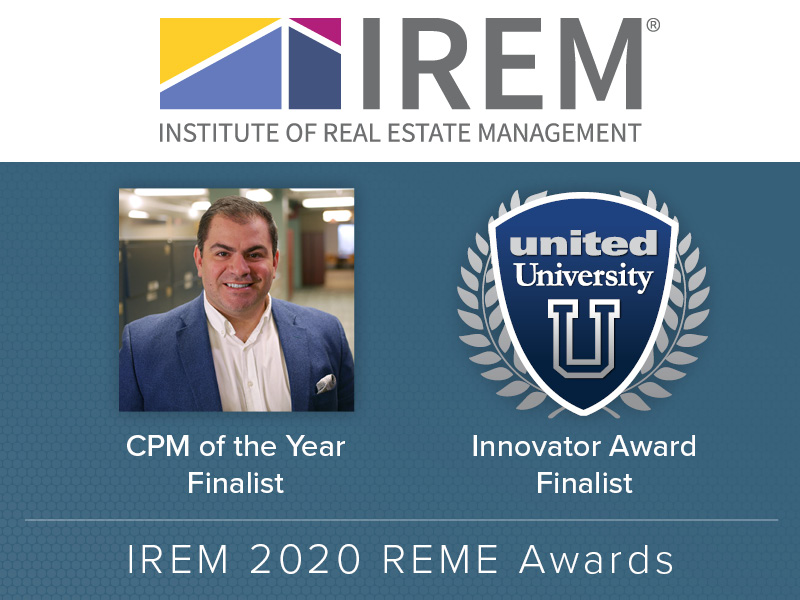 DiGiacomo & United University Named Finalists For IREM REME Awards
August 26, 2020
by:

Greg Eves
The Institute of Real Estate Management (IREM®) announced the finalist for their 2020 REME awards this week, which included Michael DiGiacomo for "CPM of the Year" and United University for the "Innovator Award."
DiGiacomo is one of five finalists vying for the prestigious "CPM of the Year" honor, which is defined as a candidate who's made a commitment to the real estate management profession and made valuable contributions to enhance its future.
DiGiacomo, who has a decade's worth of experience at United Group, currently serves as the company's Vice President of Senior and Student Housing. He became an IREM® member in 2010 and completed his CPM® in 2017, which he considers one of his proudest achievements in his professional career. During his time as an IREM® member, Mike has served as IREM® New York Capital Region Chapter No.93 Vice President for several years and in 2019 was named the new Chapter President.
"IREM has played such an important role in my career, and has always helped me learn, grow and improve as a professional," said DiGiacomo. "It's such an honor to be a finalist for this award, and I look forward to continuing to work towards growing our local chapter and promoting IREM's teachings."
United University, United Group's in-house training and development program was named a finalist for this year's "Innovator Award." This award recognizes innovative programs related to technology, customer service, sustainability, or marketing that are transformational for the company as a whole, a team, or a program.
An affiliate of the National Association of REALTORS, IREM® is recognized worldwide as a community of passionate real estate managers dedicated to ethical business practices who maximize real estate investments and promote innovative management techniques through education.
The winners will be announced at the virtual Global Summit in October.
Click here to watch United University's promotional video and to get a better understanding of what the training program offers. Click here to watch Michael DiGiacomo and United Group President and CEO, Michael Uccellini, discuss the significance of the "CPM of the Year" award.