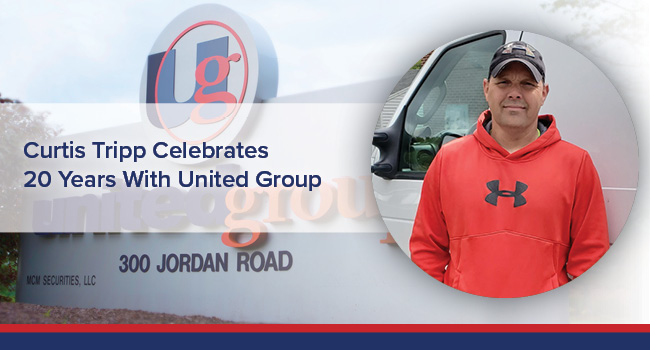 UGOC Spotlight: Curtis Tripp Celebrates 20 Years With United Group
June 19, 2019
by:

Greg Eves
United Group is proud to recognize another major milestone work anniversary this year! Curtis Tripp, an HVAC Technician, recently celebrated his twentieth year with the company. Curtis was hired as a maintenance technician at Deer River Estates, a multi-family community in Copenhagen, NY, in 1999, and was promoted to maintenance supervisor, and after four years, he was transferred to his current role and oversees HVAC responsibilities for 1,000 apartments across seven properties.
Curtis is an avid outdoorsman, and enjoys hunting, fishing riding snowmobiles and utility vehicles, and camping.

He was recently treated to lunch with his colleagues to celebrate his milestone, and the United
Group Team created a video congratulating and thanking him for his service. Click here to watch the video!
United Group is so thankful for the hard work and dedication that Curtis has demonstrated throughout the years. We'll always appreciate his loyalty and meticulous work. It's a pleasure to have you on the United Group Team, Curtis! Thank you for everything that you do.
Name: Curtis Tripp
Office: United Group communities throughout Northern New York
Role: HVAC Technician
1.) What do you remember about your first day with the United Group?
20 years is a long time ago to remember! I met with my new boss, her name was Jill. She went through what my new job would entail. We were still military housing at the time and there were strict guidelines and procedures for unit turns. I was thinking there is no way we will get these apartments ready for a move in within the timeframe given. I remember being nervous and thinking what did I get myself into! Looking back now I know I had nothing to worry about.
2.) Are you in the same role? What has changed about your role?
I was hired as a maintenance technician at Deer River Estates. I was in that role for about 1 year and was promoted to Maintenance Supervisor and continued for 4 years. I then transferred to an HVAC Tech and that's what I've been doing for the past 15 years.
3.) Tell us what an average day at the office looks like:
Being an HVAC tech for 1000 apartments spread throughout 7 properties in a Tri-county area can be challenging at times. I can be at one property fixing an issue and get called to another property that is an hour and half away for a resident that doesn't have heat and it's a blinding snowstorm. That can be quite intense. During the Spring & Summer months is when all the boilers and hot water heaters need to be serviced, so I'm always on the go. A busy schedule makes the day fly by.
4.) What do you love most about United Group?
I love my work family. In the past 20 years I have met so many amazing people and have made friendships that will last me a lifetime.
5.) What advice do you want to give yourself now, after working for the United Group during for past 20 years?
Don't sweat the small stuff. Enjoy life and have fun with it because you only get to do it once!