UGOC Spotlight: UGOC Recognizes April Work Anniversaries
April 29, 2020
by:

Greg Eves
Corey Deame is the one and only United Group employee celebrating a milestone work anniversary during the month of April. Deame began his career at United Group five years ago as a senior graphic designer, after spending several years marketing for a business that specializes in golf knickers. Corey is not only a talented graphic designer and marketing guru, but he can also tell you everything you need to know about golf knickers, in case you every need advice.
A native of New Hampshire, Deame earned a Bachelor's Degree in Electronic Media, Arts and Communication from Rensselaer Polytechnic Institute and recently earned a Master of Business Administration Degree in Marketing from The State University of New York at Albany. When Corey isn't at the office, you can find him spending time with his wife Trista and son Leo, and religiously following every professional sports team from Boston.
United Group will always be grateful for Corey's hard work and dedication to his career. He brings new and innovative ideas to the drawing board and works meticulously to finish any project he starts, and will always help a colleague in need. Thanks for all you do, Corey!
Read more about Corey's experience with United Group below!
1.) What do you remember about your first day with the United Group?
I remember getting there early and the door was still locked. I knocked a few times. I waited a minute and I saw someone's grandfather walk past the door. He stopped and looked for a second, and then cracked the door open and said, "Sorry, we don't have any bottles or cans." And then closed the door and started to walk away. I just sat there dumbfounded until he turned around and said, "Hahha, come on in! I was kidding! You must be new. My name is Graham."
2.) Are you in the same role? What has changed about your role?
I started as the Sr. Graphic Designer back in April of 2015. This included oversight for the design of all marketing materials and collateral, as well as the brand identity for all new properties. In the summer of 2019 I temporarily managed the Marketing Department and eventually got promoted to Marketing Manager. My role has expanded to include oversight of all marketing ticket requests from our 30+ properties as well as the marketing lead on many finance and development initiatives. I manage relationships with a large list of vendors that provide a variety of services, and ensure sites and corporate departments are provided the marketing materials and strategy brainstorming they need to succeed and grow.
3.) Tell us what an average day at the office looks like:
Working on or assigning marketing request tickets – marketing brainstorming sessions for various properties – a multitude of marketing and design requests from all corporate departments – marketing orientations – coordinating efforts with our vast list of vendors, etc.
4.) Tell us one of your favorite early memories from your office:
So many good memories/stories, but I have two good early memories right off the top of my head: The first being April 1st 2016 and covering Joan's office with sticky notes and attaching an air horn to the bottom of her desk chair. She was so shocked that she accidentally sat on it TWICE! [see below pic]. The second was the surprise baby shower that the office threw for Trista and I for the birth of our son Leo! [pic below]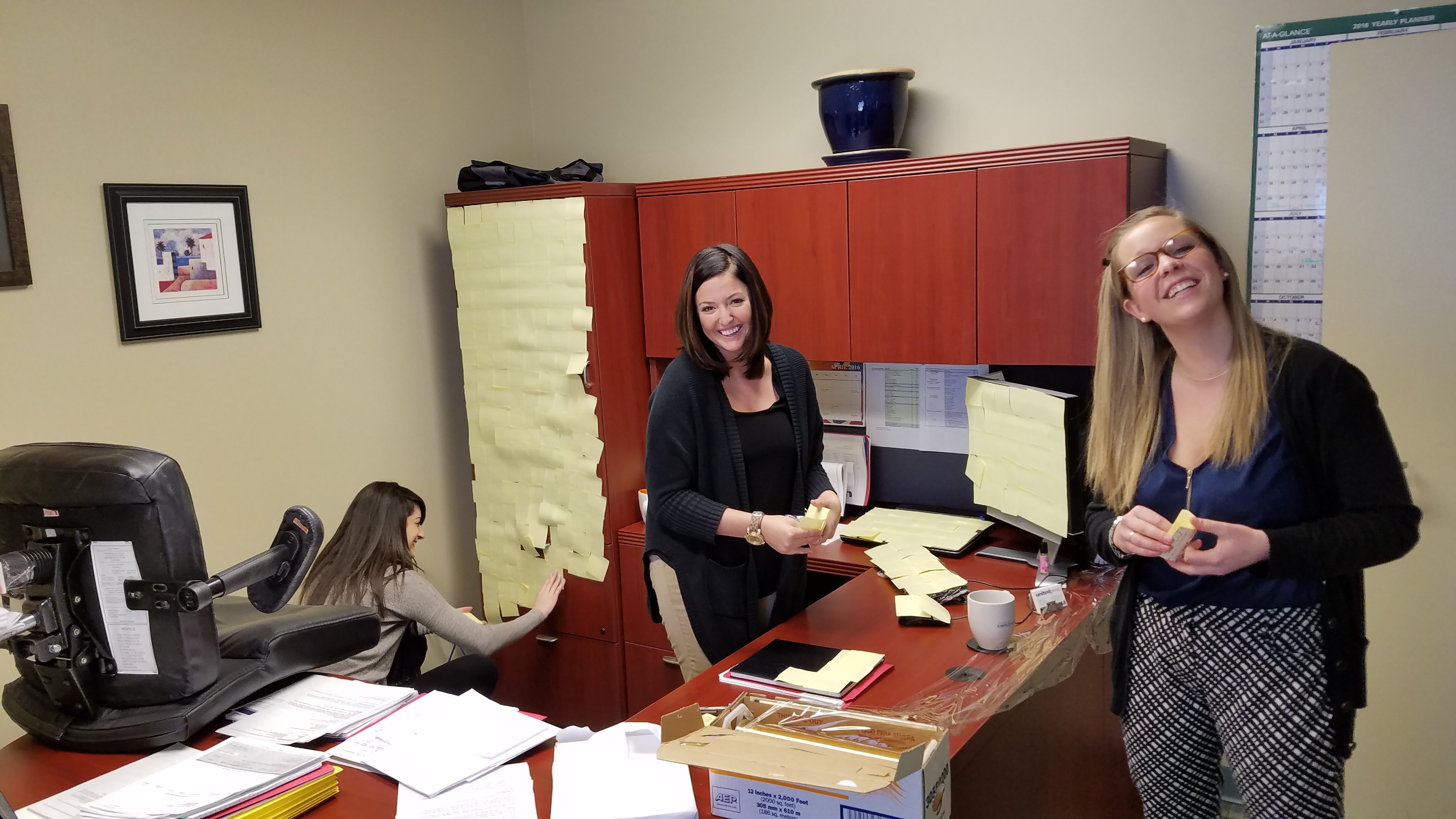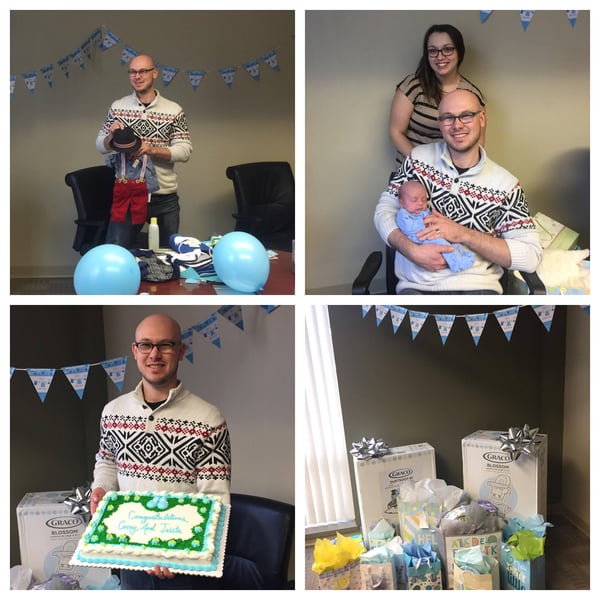 5.) What do you love most about United Group?
I love the dedication and commitment to employees, and the feeling of belonging to a family despite the size. I've seen this demonstrated throughout the entire COVID-19 epidemic as United has put employee health and safety above all else. I also love our Management Retreats, Health & Wellness Fair, walking competitions, fantasy football (3x champ FYI) and baseball leagues, Secret Santa, Holiday party, volunteer opportunities and fund-raising competitions.