January 11, 2023
UGOC SPOTLIGHT: JOAN CAVANAUGH CELEBRATES 20 YEARS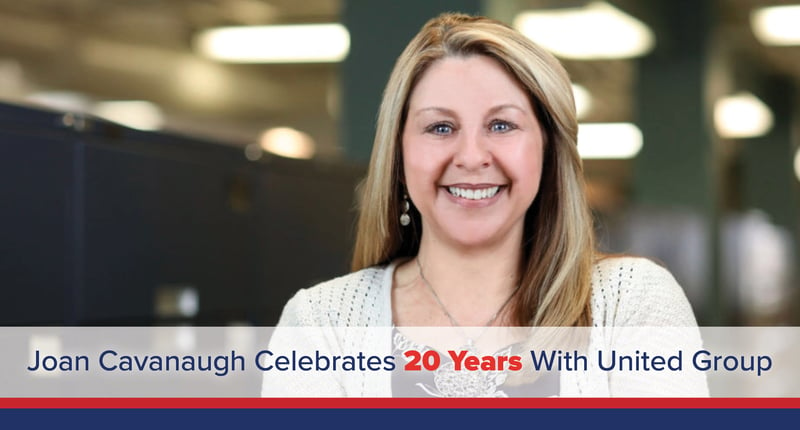 Please join us in celebrating our Chief Human Resource Officer Joan Cavanaugh's 20th UGOC work anniversary! Joan joined United Group of Companies on January 6th, 2003 as Director of Human Resources. She was later promoted to Vice President of Human Resources in 2007 and again in 2021 to Chief Human Resources Officer.

In her tenure with UGOC, Joan has continually served as a trusted organizational partner, facilitating many aspects of employee relations, talent acquisition, leadership succession and so much more. In many ways, Joan is the UGOC influencer! By communicating and cultivating our workplace brand, our employees are able to achieve maximum success within our organization and continue to thrive.
Thank you Joan for your continued dedication to UGOC and for being a constant sounding board for our corporate team, as well as our 200+ and growing site team mates! Award-winning culture like ours doesn't just happen and we appreciate all that has gone into the last two decades. Cheers to 20 more years!

What do you remember about your first day with UGOC?
I remember it was a LONG walk from the parking garage on Columbia to our Corporate Office at 80 State Street in downtown Albany. It was windy and cold, but the walk was invigorating, and my nerves kept me warm! I remember a warm welcome, lots of introductions, and a week of tours of our properties with Michael Uccellini and a Regional Manager. I presented myself with my new hire paperwork, completed it, and my day began!

Are you in the same role? What has changed about your role?
I have been promoted over the years since being hired in 2003. This role has become more complex for me and the entire HR team for too many reasons to list; the world in general, changing laws and regulations, and having our communities in multiple states across the US. We have also become fully automated to keep pace with our business and to be more versatile as a department.

Tell us one of your favorite early memories from your office.
After completing our New Employee Handbook, I wanted to ensure the Department Heads had the opportunity to read through and react with any questions before we distributed it to the rest of our employees. An executive (who no longer works here) returned his copy, saying "this is clearly not for my team, we have different guidelines." I worked very hard to bridge the gap, collaborate with him, understand where he was coming from . . . the end result, I was "photo shopped" into a departmental picture that was displayed in his office AND I was able to obtain Handbook Acknowledgement Forms from him and his employees. Success!

What do you love most about United Group?
The people I work with and interact with on a regular basis. Whether at the home office, or at our Sites, we have a unique and amazing team. I love the ability to work with a highly talented and solid team to create incredible experiences for our employees that transcends to their friends and families, our residents, and business partners.

What advice do you want to give yourself now, after working for the United Group for the past 20 years?
Have confidence in yourself and the knowledge, skill, and ability that you possess, even if you are not the most experienced person in the room. Continue to listen with an open mind and a willingness to understand multiple perspectives before making decisions without losing sight of the facts and details of the matter at hand. Be open to change and continue to create new perspectives for others.