August 2, 2021
UGOC SPOTLIGHT: UNITED GROUP CELEBRATES STACEY SPINNER'S MILESTONE 15 Year WORK ANNIVERSARY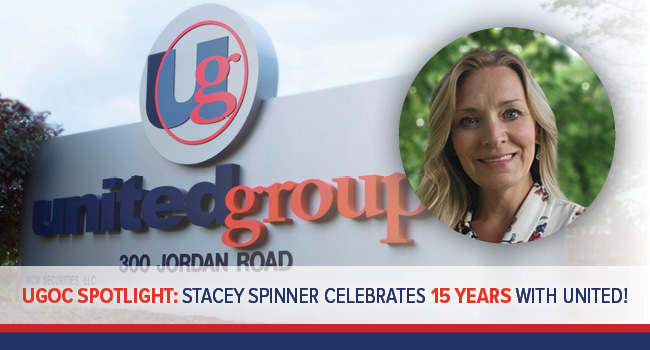 Today, we're thrilled to recognize a very special milestone 15 year work anniversary for one of our most accomplished United Group team members, Senior Property Manager Stacey Spinner!
Since joining the United Group Family in 2006, Stacey has become a fixture at our Parkstead Properties in the Watertown area. She quickly proved to be a major asset, working in several different positions in her early years with the company. Stacey's hard work, skill and dedication to her many duties earned her a well deserved promotion to Senior Property Manager in 2015, a position she still holds to this day.
While Stacey's job description states her home properties as Parkstead Watertown at City Center and Parkstead Copenhagen, her profound contributions can be felt across our entire portfolio. Stacey exemplary work ethic, impressive people skills and willingness to go above and beyond in her duties has endeared her to residents and coworkers alike, all of whom have nothing but glowing compliments to share about their time with her.
The recipient of the prestigious 2020 UGOC President's Award, Stacey has excelled in every phase of her career here at United Group. Her example has inspired countless colleagues to reach new heights, both at work and in their personal lives - the sign of a truly gifted leader. We're so grateful to have Stacey as a member of the United Family, and couldn't be prouder of her for this great achievement! We're looking forward to many more accomplishments and achievements together as her impressive tenure continues.
Keep reading to learn more about Stacey's incredible United Group career, and please join us in offering our heartfelt congratulations to her on reaching this tremendous milestone! Congratulations Stacey!
Stacey Spinner
Senior Property Manager
1.) What do you remember about your first day with UGOC?
My 1st day was July 31, 2006. There was only me, an office manager and a General Manager in the office. I remember after doing the new hire paperwork the office manager started me off answering the phones. I was the work order receptionist. At that point all 1000 apartments were occupied and my sole responsibly was to answer the calls for all 1000 apartments when they put in a work order. The one rule was the phone had to be answered by the 2nd ring. While on the phone with a resident another would call and I would have to put them on hold so I was sure to answer by the 2nd ring. I then had to page maintenance on beepers to inform them of the work order (I'm really dating myself with that one) At the end of the day, I was thinking what did I get myself in to! The phone never stops ringing!

2.) Are you in the same role? What has changed about your role?
I'm not in the same role. In 2006 I started as a work order receptionist, we were in the 24th year of a 25-year lease with the Army. When the lease ended, I transited to the Assistant to the Regional in 2007 and stayed in that role until 2015 when I became the Property Manager at Huntington Heights. When that property was sold in 2017, I was transferred to Gabriel Court & Deer River Estates now known as the Parkstead Properties and in September 2020 I became the Senior Property Manager for Parkstead City Center & Parkstead Copenhagen.

3.) Tell us what an average day at the office looks like:
I go in to work with the best intentions each day, I have my to do list and I tell myself today you are going to stay focused and complete your tasks…then I step out of my car and am greeted at the door with a whole different to do list! Someone needs to move in asap so I juggle the turn schedule to make it work, an apartment needs to be cleaned but my housekeeper is already in another apartment so I load up supplies and head out to clean the apartment. The resident that is moving out this afternoon wants to do the move out now so I run to do the move out. A dog shows up out of nowhere and after cuddling and playing with it I have to find its owner. I go the mailbox and run into residents and I'm a social butterfly so of course I have to chat with them for a bit but while I'm with them I get a call that there's a matter that needs my attention at Copenhagen so I jump in my car and head to that property. So, I guess there is not an average day at the office, each day is different and brings new challenges and adventures so and I'm always adapting.
4.) Tell us one of your favorite early memories from your office:
Ok were going way back now, back to 2007-2008. During this time my office was at the main office at our Water St. location here in Watertown. We were all under one roof, at one point there were close to probably 15 office staff. We were in a complete lease up of 1000 apartments. We had so much fun bouncing ideas around on how to get these apartments leased quickly. We created guest cards, welcome folders, applications. We come up with procedures and checklist and we all learned Yardi together. The camaraderie we had made it easy to come to work and enjoy what we were doing. When we moved out of the main office and to the individual sites in 2008, we were prepared and ready to take on the leasing world.
5.) What do you love most about United Group?
I love that I have so many life lines to reach out to. If I'm having a "blonde moment" and can't figure something out or if I'm having an emotional struggle there is always someone willing to talk with me and give me words of advice or maybe words of wisdom or just a listening ear. I've thankful for the amazing people I've met along the way. I've made friendships that will last a lifetime.

6.) What advice do you want to give yourself now, after working for the United Group for the past 15 years?
Start writing memorable moments down because you could write an amazing book about property management that would sound so unbelievable but would be oh so true! Don't be afraid of change because in this job change is inevitable. Ask questions, be a knowledge seeker, do those Gracehill courses! Be prepared to change focus several times a day, just go with it and don't stress, as you can see…it always works out!