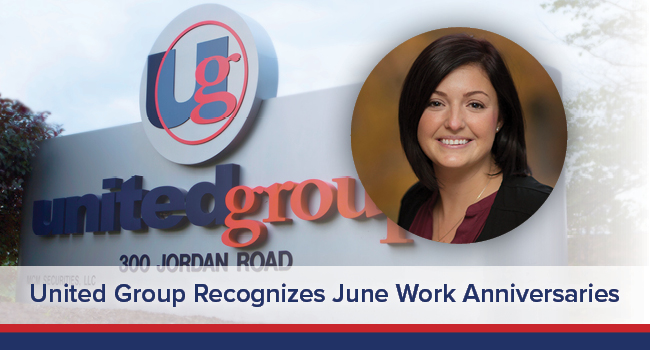 UGOC Spotlight: United Group Recognizes June Work Anniversaries
June 29, 2020
by:

Greg Eves
Erin VanDeusen is the one and only United Group employee celebrating a milestone work anniversary during the month of June and the company is proud to recognize her hard work and notable career trajectory.
Erin has worn many hats during her five-year career with Untied Group. She was the office manager at the corporate office, a field marketing manager, assistant property manager and property manager, and was most recently promoted to a regional manager position and oversees a portfolio that includes independent senior living communities and multi-family communities in New York and Colorado.
United Group is very proud of Erin and thankful for her many years of dedication to her residents, colleagues and employees. She is kind, thoughtful and meticulous. United Group is lucky to have her as a member of the United Group Family.
Learn about Erin's career with United Group below!
1.) What do you remember about your first day with UGOC?
As the Office Manager at the Corporate Office, I remember being welcomed with open arms and thinking what a blast the marketing team was and how overwhelming the postage machine seemed. I was so excited to jump right in and as I stocked the conference rooms and wiped down the tables each morning and night, I looked forward to being in the meetings that took place in those conference rooms.
2.) Are you in the same role? What has changed about your role?
I am not in the same role, and my role has changed drastically. I started as the Office Manager five years ago like many others in the company (Michaela and Mekeya) and pushed to work my way up just as they did. After a year in the Office Manager position, I quickly transitioned into Field Marketing and then the APM at Glenmont Abbey Village. I learned to love senior lease-ups and knew I wanted to grow and see it through. I then transitioned into the PM role at Glenmont Abbey Village and now here I am a Regional Manager with three of my own lease-up properties and assisting on two other senior assets.
3.) Tell us what an average day at the office looks like:
Average day at the office is never the same. I started as a Regional during COVID so that brought challenges in itself. I have now begun to travel to my properties and already have been assisting on many aspects of the job including but not limited to leasing and pushing to meet goals, hiring, pushing renewal increases, training and transitioning a takeover, down to putting up ski cages TODAY at our Colorado property.
4.) Tell us one of your favorite early memories from your office:
One of my early favorite memories (as an Office Manager) had to be assisting with our first Health Fair hosted at the College Suites at City Station and really taking the lead on Fundraising for the Making Strides to end Breast Cancer at the corporate office. I really have a great memory in each of my roles, that initial memory being as an Office Manager but then as a site manager at Glenmont Abbey Village, I have too many to even count.
5.) What do you love most about United Group?
I love how United Group is like a family rather than a corporation. When United Group sees value in their employees, they only want them to succeed. I love that they hire within and really push to strengthen their current employees and push to train as new employees comes on board.
6.) What advice do you want to give yourself now, after working for the United Group during for past 5 years?
The sky is the limit and never be afraid to push yourself to learn more! Your own success is what you make of it.