October 28, 2021
United Group Announces Human Resources Promotions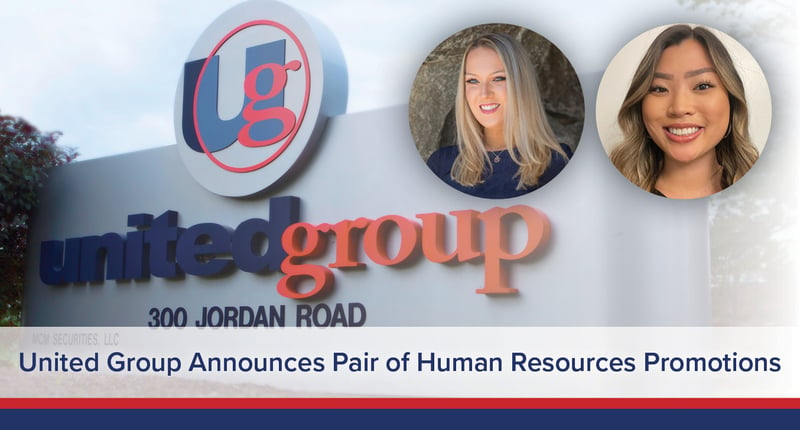 At United Group, we place a major emphasis on professional development and take great pride in offering members of our team opportunities to grow and thrive within our organization. With that in mind, today we're thrilled to announce promotions for two talented and hardworking members of our Human Resources Team.
Grace Monahan and Maria Balli have taken on new roles as United Group's Human Resources Generalists. Grace's position will have an emphasis on talent management and be responsible for functions related to recruitment and hiring, employee on-boarding and off-boarding, our safety program and worker's compensation, along with general departmental support. Maria's position will be focused on Employee Engagement and responsible for functions related to employee engagement strategies and events, policy development and compliance, HR project management, along with general departmental support.
A native of Medway, Massachusetts, Grace Monahan began her time with United Group in June of 2020 following her graduation from the University of New Hampshire and quickly became an invaluable member of our team. She was hired as Management Administrator and immediately made meaningful contributions, notably in helping us navigate through the pandemic and keeping up with constantly changing guidelines in New York, Florida, Georgia, Maryland, Illinois and Colorado. She was also instrumental in revamping our reporting process, helping us to monitor crucially important data and tailor sales and marketing strategies for several of our properties. Her willingness to dive in right away and take on major roles in several of our biggest projects is a great indicator of the type of professional she is – tenacious, dedicated, and the ultimate team player.
In addition to keeping up with the latest fashion trends, Grace enjoys traveling and trying new restaurants and food in her free time. She also spent a semester abroad in Milan, Italy in 2019, immersing herself in Italian language and culture, and interning with a virtual retail startup. The memorable trip saw her visit twenty different cities in eight countries!
Originally from Kinderhook, New York, Maria Balli joined United Group in March of 2021. Maria's HR Assistant role was initially intended to be a temporary position, however, it didn't take long for us to realize that we needed to add her to the team. Maria's work ethic, expertise, and diverse skillset has quickly established her as a tremendous asset to our organization. She has played a major role in crafting several important company policies and procedures that have already had measurable positive impacts for us, notably in the areas of legal compliance, employee engagement, and cost containment. On top of these many responsibilities, Maria performed Office Management responsibilities during a staffing vacancy, keeping our corporate office running smoothly and eventually training the temporary and full-time team members who took on that role – a true reflection of her dedication and professionalism.
Maria graduated from Siena College in 2018 with a bachelor's degree in creative arts and is currently earning her master's from Northeastern University. In her free time, Maria enjoys oil painting, cooking, baking and coaching cheerleading and dance. She was also member of the Albany Empire's dance team when they were a part of the Arena Football League.
Please join us in offering our heartfelt congratulations to Grace and Maria on their well-deserved promotions. We are so grateful to have them on the United team and looking forward many more accomplishments and contributions to come.
To learn more about career opportunities with United Group, click here to view our current job openings.