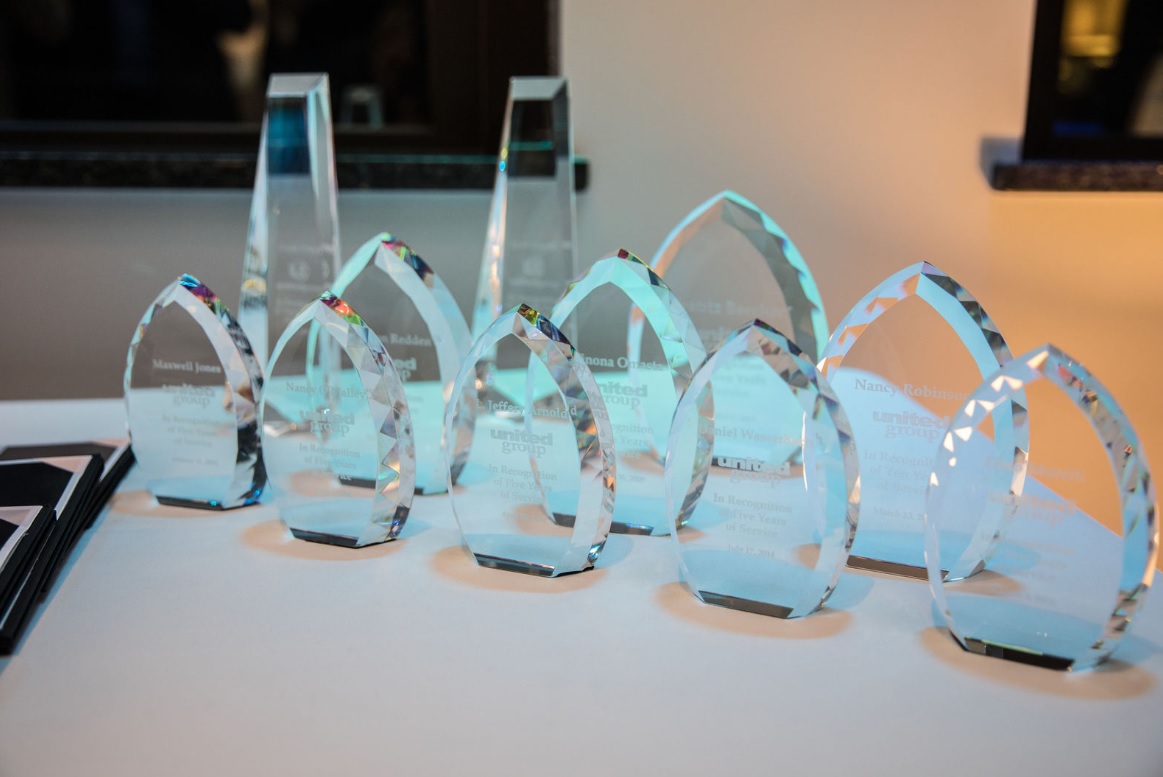 United Group Honors Milestone Work Anniversaries with Celebration at Franklin Plaza
December 31, 2019
by:

Greg Eves
Throughout the year, United Group has recognized and honored individuals who have reached five, ten, fifteen, and twenty or more years with the company. Their unique career highlights were broadcasted throughout the company and featured on the United Group blog and social media websites on a monthly basis.
To close out 2019 and to honor these individuals' commitment and loyalty, United Group hosted a dinner reception and award ceremony at Franklin Plaza. Employees from across New York, Florida and Georgia gathered to celebrate their work anniversary milestones with United Group's leadership team, regional managers and property managers.
Honorees were recognized with thoughtful speeches by their overseeing manager and were presented an engraved crystal award and a memorable gift of their choice, followed by a photo taken with Michael Uccellini. Click here to view all the photos that were taken throughout the evening!
Below are the names of the employees who were honored at this year's ceremony.
5 Years
Max Jones – Property Manager, Diamond Rock Terrace
Nancy OMalley – Operations Manager
Jeff Arnold – Chief Operating Officer
Dan Wasserbach – Property Accountant
Dino Morelli – Maintenance Supervisor, Wallkill Living Center
10 Years
Shannon Redden – Property Manager, Parkstead Watertown at City Center
Winona Omasta – Building Attendant, The Lodge at BridgeMill
Nancy Robinson – Property Accountant
15 Years
Beatriz Beecher – Property Manager, The Gables at Lakeside/The Hamilton at Lakeside
20 Years
Mark Bins – Maintenance Manager, The United Group of Companies, Inc.
Jacob Handal – Maintenance Technician, The Gables at Lakeside/The Hamilton at Lakeside
Curtis Tripp – HVAC Technician, WGS Properties
20+ Years
Kareen Schlederer – Vice President, Development Services (21 Years)
E. Graham Thompson – Regional Manager (21 Years)
Thomas H. Uccellini – Executive Vice President (21 Years)
Michael J. Uccellini – President & Chief Executive Officer (28 Years)
Kim Williams – Senior Vice President (32 Years)
John Peterson – Senior Vice President (35 Years)