March 1, 2021
United Group Recognizes February Work Anniversaries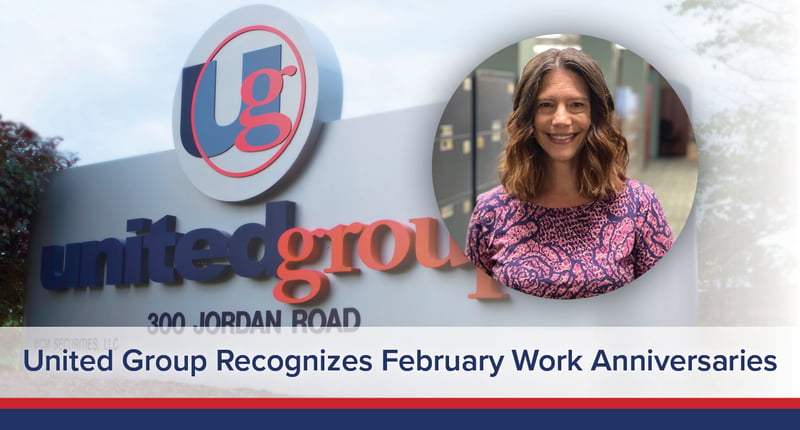 Today, we have the pleasure of celebrating the very special ten year milestone work anniversary of an equally special member of the United Family - Nicole Kelly.
An invaluable member of our accounting team, Nicole makes her impact felt every day at our corporate offices in Troy, NY. In her role as a Property Accountant, Nicole's unparalleled work ethic, attention to detail and can-do attitude have established her, not only as an asset to United Group, but as a great co-worker and friend to her colleagues.
Nicole began her United Group journey a decade ago as an Accounts Payable Specialist. Now, having earned this expanded role, her hard work and expertise has played a major role in so many of our recent successes. We are thrilled to have Nicole on our team, and are looking forward to many more years with her by our side.
Learn more about Nicole's career with United Group below, and please join us in recognizing her many accomplishments over the last ten years. Congratulations, Nicole!
1) What do you remember about your first day with UGOC?
Unfortunately, I did not start with United Group at a very good time. One of our Regional Managers had passed away in a snow mobile accident. So, here I am starting a new job and the entire company is grieving. What I did learn from day one though, is that United Group truly is a family. Everyone is there for you when you need them.

2.) Are you in the same role? What has changed about your role?
No, I'm not in the same role. I started off at United Group as an Accounts Payable Specialists. Then from there, I transitioned into a Property Accountant role.

3.) Tell us what an average day at the office looks like:
There is no average day at the office. You come into work thinking this is what I'm going to accomplish today. About 5 minutes into the day, that entire strategy goes out the window.
4.) Tell us one of your favorite early memories from your office:
One of my favorite early memories is Mark Hellman. There wasn't a "boring" day in the office when he was around. He always had a joke to tell and would always say to me, "I don't care what they say about you, I like you anyway." 😃
5.) What do you love most about United Group?
United Group makes you feel like you are part of a family and not just an employee.


6.) What advice do you want to give yourself now, after working for the United Group for the past 10 years?
Don't stress, it can be fixed.