April 5, 2019
United Group's Tim Haskins Honored At Leadership Institute Class Of 2019 Ceremony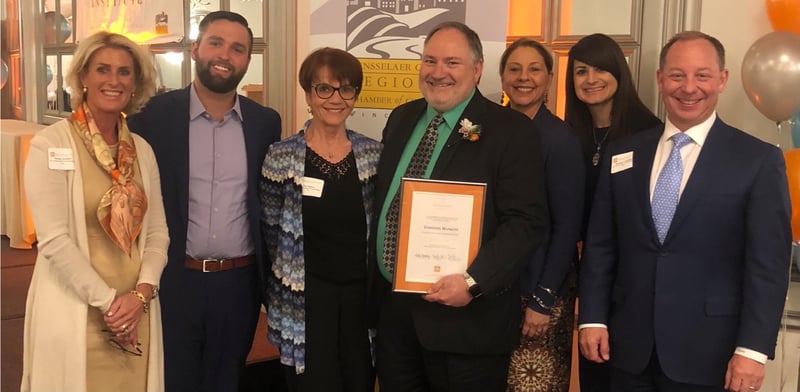 Capital Region business leaders gathered at the Franklin Terrace Ballroom in Troy, NY, yesterday evening, for the Rensselaer County Regional Chamber of Commerce Leadership Institution Class of 2019 Graduation Ceremony and Dinner. Twenty-four Leadership Institute graduates were proudly recognized for completing an extensive eight-month leadership and skills-based program.
One of the graduates was United Group's very own, Tim Haskins.
If you don't have the pleasure of working with or knowing Tim, he is United Group's Project Manager. He is directly responsible for managing every phase of project development, including site selection, design development, municipal approval, code reviews, cost analysis, and construction of new projects. Tim has more than thirty years of engineering, regulatory management, and construction and real estate development experience. He's also worked in a variety of industries and construction lines including student housing, senior housing, multi-family residential housing, office buildings and manufacturing facilities.
He recently celebrated his fifteenth anniversary at United Group, and he's developed more than $300 Million in projects located in New York, Florida, and Georgia. Prior to Tim's career at United Group, he served in the United States Navy as a Rector Operator and Electronics Technician on a Los Angeles Class nuclear attack submarine and land-based prototype plants. He graduated from the United States Navy Nuclear Power School in the upper 1% of his class.
Outside of work, Tim's hobbies include wood working and creating Adirondack furniture, and home-building projects for his home and family. He and his wife Tina also enjoy maintaining and improving their home and yard, camping, and traveling to tropical destinations in Caribbean.
He's originally from Yerington, NV, where his parents homesteaded in the 1950s.
Tim has been eager to participate in this award-winning leadership program for several years, and finally found the right opportunity to join in 2018, which is the Chamber's fourteenth graduating class. He met all the Leadership Institute's requirements, which included a weekend retreat in Lake George, NY, and monthly meetings, where participants learned leadership skills, and had a chance to interact with distinguished business leaders from the Capital Region.
Why did Tim pursue this program? Because he knows there's no growth in the comfort zone.
"I didn't come from an education background, or a sports background with team play. I wanted to step out of my comfort zone and learn how to interact and communicate with people outside of my social circle. I learned a lot, and met some incredible people throughout my experience," said Haskins.
Several members of the United Group Team attended the event to support and honor Tim. The entire company is very proud of Tim's achievement and his career at United Group. He's always been a leader, a contributor, and a supporter. United Group will always appreciate his relentless pursuit to learn more, and constant efforts to step out of the comfort zone.
Tag(s):