August 10, 2017
College Suites At Hudson Valley Celebrates Grand Opening With Official Ribbon Cutting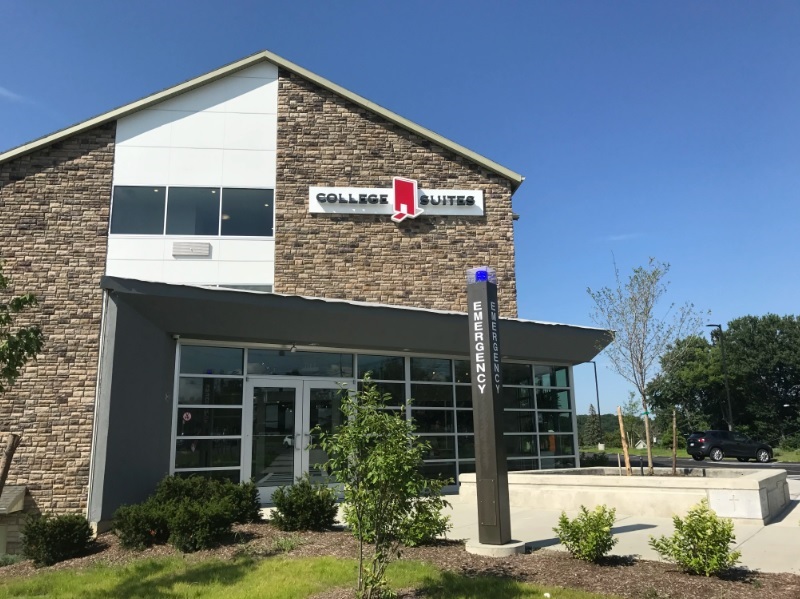 College Suites at Hudson Valley is open and ready for Capital Region college students to move-in!
Nearly 100 people were on hand for the official ribbon cutting ceremony that was held on Wednesday to tour the brand new, state-of-the-art student housing community located just steps from the Hudson Valley Community College campus.
Invitees also heard from special guest speakers including: Michael Yevoli, the Regional Director of the Capital District Empire State Development, who spoke on behalf of Gov. Andrew Cuomo, Rensselaer Deputy County Executive Chris Meyer, County Legislators Phil Danaher, Robert Loveridge and Ed Manny, New York State Assemblyman John McDonald III, City of Troy Mayor Patrick Madden, Hudson Valley Community College President Andrew Matonak, and The United Group of Companies Inc. President and CEO Michael Uccellini.
The $25 million, three story, 147,610 square foot student housing community, situated on the corner of Morrison and Vandenburg Avenue, will house 268 students in 72 fully furnished apartment suites and features: a fitness center, laundry facility, digital computer studio, bike storage, study and lounge areas, and on-site management offices. College Suites are currently signing licenses for the 2017 fall semester.
"College Suites at Hudson Valley will provide a priceless opportunity for students to benefit, learn and grow from a well-rounded, independent living experience while attending college," said Michael DiGiacomo, Regional Manager at United Plus Property Management. "Residents have their own private bedroom in two or four bedroom suites, that are fully furnished and include flat screen televisions and high speed internet. In addition, our "Live.Learn.Relax." program offers monthly events that are designed for students to meet fellow residents and enjoy exciting entertainment."
Construction began during the summer of 2016 and was completed in July 2017.
"This has been a very meaningful and exciting project for all of us at United Group, especially with our corporate office within minutes of College Suites at Hudson Valley. We have been eager to once again leave our creative footprint on such a beautiful city and with the full support from the college, the City of Troy and the county government, it's very fulfilling to officially introduce our community to College Suites," said DiGiacomo, who also mentioned that several Hudson Valley Community College athletes moved into the student housing community last week and were assisting with the ribbon cutting ceremony.
"We're eager to welcome students in the coming weeks and serve as a positive addition in our community and help meet the demand for conveniently-located student housing in the Troy area," DiGiacomo concluded.
The ceremony did not conclude without a historical side note. Two time capsules were discovered during the demolition of the Immaculate Conception Seminary, and were opened for the first time. United Group's Director of Project Development, Tim Haskins, provided details and historical background of the time capsules, and was assisted by Kathy Sheenan from the Rensselaer County Historical Society. The time capsules were dated 1941 and 1960 respectively, and included newspapers, coins and religious artifacts.
Tag(s):