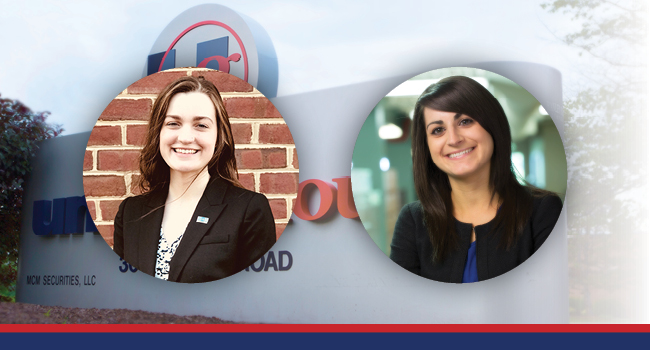 UGOC's Michaela DiGiacomo and Bekah Hebert Earn SHRM Credential
October 16, 2020
by:

Greg Eves
We are proud to announce that Michaela DiGiacomo and Bekah Hebert have received their Society of Human Resource Management (SHRM) Certified Professional credential. This distinction is awarded to recognize technical HR expertise within the Human Resources profession.
According to SHRM, these certifications directly link to on-the-job scenarios, realistic work situations, and the current human resources landscape, focusing on the competencies and knowledge human resources professionals need to lead in today's business community.
By incorporating key HR competencies and knowledge into the SHRM-CP exam, SHRM's certifications demonstrate that the credential-holder has strong capabilities in both aspects of HR practice—competency and knowledge—that are required for effective job performance. The certification will allow Michaela and Bekah to use their knowledge, skills, and competencies as leaders in the HR realm to continuously drive United Group's strategic direction in the areas of People, Organization, Workplace and Strategy.
Michaela (Gabriele) DiGiacomo began her employment with United in November 2010 managing front office operations and later expressed interest in Human Resources. Michaela moved to a full-time role in Human Resources and was responsible for the successful implementation of our training program with Grace Hill. Michaela's role expanded and her knowledge, skill, and abilities earned her a promotion to Human Resources Manager in July of 2012. With ten years of dedicated experience at United, Michaela has helped shape who we are today and is relied upon as a leader at United.
Bekah (Parker) Hebert began her employment with United in June of 2018 as an HR Generalist and was promoted to Benefits and Compensation Manager in March of 2020. Bekah has an educational background in Human Resources and had her goals set on achieving her certification after being promoted. Bekah is continuing to grow in her new role and has achieved great success as a technical expert in her new role.
"I couldn't be more proud of Michaela and Bekah for independently achieving a SHRM certification which will assist them with their continued career growth," said Joan Cavanaugh, United Group's Vice President of Human Resources. "I'm very proud of Michaela for her many accomplishments over the last decade and am grateful that she took the time to pursue this certification and be recognized for her wealth of knowledge as an HR professional and leader. I am proud of Bekah for her diligence to learn what she does not know and is quickly mastering everything that comes her way. She has a unique talent and is a tremendous asset to United. I'm confident that both Michaela and Bekah will take advantage of the knowledge they've learned from the expert guidance and coursework from SHRM and look forward to watching them continue to grow personally and professionally and become even more impactful leaders at United."