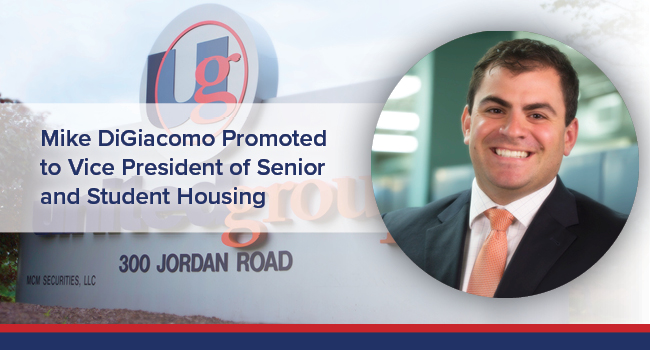 Mike DiGiacomo Promoted to Vice President of Senior and Student Housing
February 14, 2019
by:

Greg Eves
United Group is thrilled to announce that Mike DiGiacomo has been promoted to Vice President of Senior and Student Housing.
His new role will include overseeing corporate operations and asset management of United Group's senior portfolio and student portfolio in addition to direct supervision of lease-up initiatives at independent senior living communities in Florida and Colorado.
DiGiacomo had previously served as a Regional Manager for United Group. He oversaw the management and operations of United Group's student housing portfolio, which consists of 1,554 beds, and four senior housing properties with 578 apartments. Throughout his near-decade career with United Group, Mike also served as an Operations Manager at College Suites at City Station and Schuyler Commons, Property Manager at Schuyler Commons, and Property Manager at Schaffer Heights.
Prior to his career with United Group, he was a Property Manager for Gross and Cohen LLC, where he directed site operations for off-campus student housing properties in New York and Kentucky.
DiGiacomo also earned the Certified Property Manager (CPM) credential from the Institute of Real Estate Management (IREM). He currently serves as the IREM New York Capital Region Chapter Vice President.
"I'm honored to be promoted to the vice president level, and to have had the opportunity to grow within the organization. Since day one, I've always felt a part of the 'United Group family' and I look forward to helping the company continue to succeed," said DiGiacomo.
United Group is very proud of Mike's passion for the real estate industry, and the leadership skills he's developed throughout his career. United Group looks forward to watching him excel in his new position. Congratulations, Mike!