December 29, 2021
Regional Manager Jonathan Kaplan Earns Certified Property Manager Credentials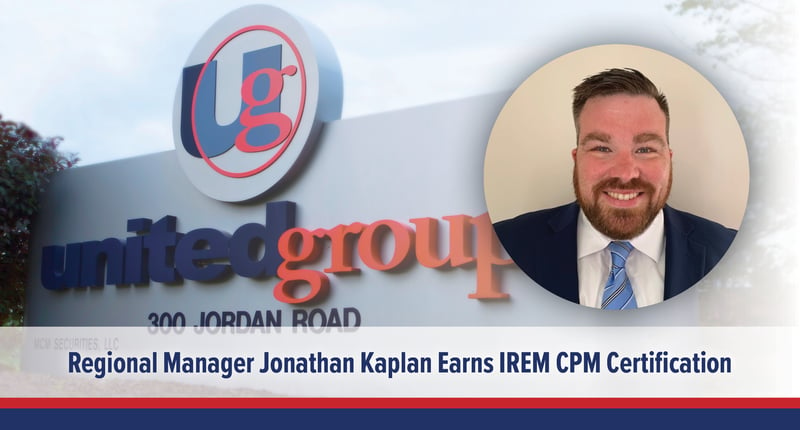 It's no secret that professional growth and continued learning is at the center of our organizational philosophy at United Group. With that core tenet in mind, we'd like to take a moment today to recognize Regional Manager Jonathan Kaplan, a 14 year industry veteran, whose commitment to developing his real estate and property management skills recently earned him the prestigious Certified Property Manager (CPM) credential from the Institute of Real Estate Management.
The rigorous program Kaplan completed to earn this honor is widely regarded as the industry's premier property management certification worldwide, and represents a major step forward in an individual's career growth. Kaplan has spent the past 16 months completing the coursework and exams required to earn the his CPM designation, hard work that is certain to greatly benefit both himself and United Group.
An affiliate of the National Association of Realtors, IREM is recognized across the globe as a community of passionate real estate managers dedicated to ethical business practices while maximizing real estate investments and promoting innovative management techniques through education. The CPM designation says in no uncertain terms that an individual has the tools and knowledge to maximize property value in any asset class.
To qualify for a membership, each candidate must be sponsored by a current IREM Certified Property Manager.
IREM's New York Capital Region Chapter No. 93 sponsored Kaplan. Our VP of Senior Housing Michael DiGiacomo is the current sitting president.
"It's hard to express the honor and pride I feel to be counted among this qualified number of Certified Property Managers," said Kaplan. "I would like to offer my sincerest gratitude to our COO Jeff Arnold, VP of Senior and Student Housing Michael DiGiacomo, and CEO Michael Uccellini for their unwavering support and mentorship throughout this process. The hard work and time spent earning this certification has been well worth it and I am thrilled to begin this new chapter in my career."
As a regional manager at the United Group, Kaplan plans use what he's learned to generate positive results for UGOC and continue to grow in his position. He currently oversees the management and operations of the company's multifamily and Texas portfolio, and a team of more than 25 staff members.
"I'm looking forward to utilizing the tools and values IREM's training has provided not only to continue my own professional growth, but to push our organization ahead as well," said Kaplan. "This dynamic industry is constantly evolving and earning my CPM certification is a huge step forward in my ongoing efforts to stay on the cutting edge and ensure we are providing a best-in-class living experience for our residents. I remain committed to developing as a Regional Manager and will use these tools and lessons to continue to push myself to improve each and every day."