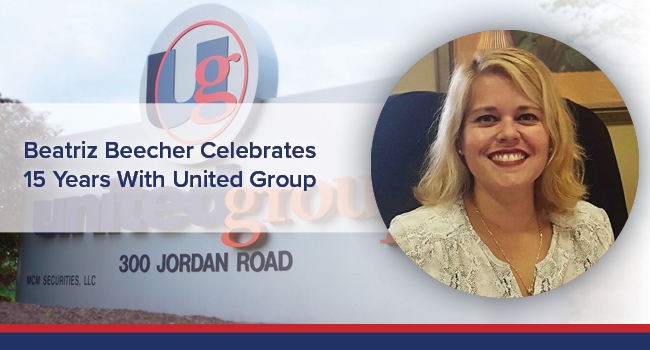 UGOC Spotlight: Beatriz Beecher Celebrates 15 Years With United Group
November 8, 2019
by:

Greg Eves
Beatriz Beecher, one of United Group's longest serving employees from the state of Florida is celebrating her fifteenth work anniversary with the company this month. Beatriz is the property manager of The Gables at Lakeside and The Hamilton at Lakeside, which are both multi-family communities located in Kissimmee, FL.
A native of Caracuas, Venezuela, Beatriz moved to Miami, FL when she was seven years old, before moving back to Venezuela where she graduated high school. She would go on to become a certified flight attendant and eventually move back to the United States at age twenty-one, where she began a career in the restaurant industry and met her husband.
Beatriz and her husband have raised two children, Michael who is eighteen years old and Amber who is eleven years old. Beatriz enjoys shopping for clothes and shoes and taking her daughter to the beach.
Beatriz's sister-in-law, who was an assistant property manager, first helped spark her interest in real estate, and recommended her to apply for a job in the industry. Thankfully, Beatriz took her advice and eventually began her career with United Group.
Her hard work, effort and thoughtful management-style has played a major role in her community's continued success, and she was recognized as Property Manager of the Year at United Group's 2017 Managers Retreat. United Group will always appreciate and value her kindness, energy, and ability to work with others. Thank you for everything you do, Beatriz!
Learn more about Beatriz's career with United Group, below!
Name: Beatriz Beecher
Office: The Gables at Lakeside and The Hamilton at Lakeside
Role: Property Manager
1.) What do you remember about your first day with the United Group?
I was very excited to start my new career. I remember that Beatriz Manzanarez was very welcoming and took me to tour the community, she also took me to an apartment that maintenance was working on to introduce me. I feel that everybody was very friendly, I remember that Jacob was there.
2.) Are you in the same role? What has changed about your role?
No, I actually started as a leasing agent and then around 2007 after the condo conversion, I was promoted to assistant manager. In 2011 I was promoted to property manager.
3.) Tell us what an average day at the office looks like:
Check emails, check work orders and I meet with the office team to plan for the day and after that when maintenance is done taking care of the grounds I meet with maintenance.
4.) Tell us one of your favorite early memories from your office:
When I was promoted to property manager, I was very excited and scared at the same time. It's been a great journey and I've learned so much throughout the years and continue to do so.
5.) What do you love most about United Group?
I believe that this is a great company to work for and if you work hard there will always be the opportunity to grow. The trust that has been given to me is priceless and very much appreciated. This company is like a big family and I am very happy to be part of it. Looking forward to many many more years!
6.) What advice do you want to give yourself now, after working for the United Group during for past 15 years?
Continue to work hard!