April 30, 2021
United Group Senior Managing Director Tommy Uccellini Celebrates 20-Year Work Anniversary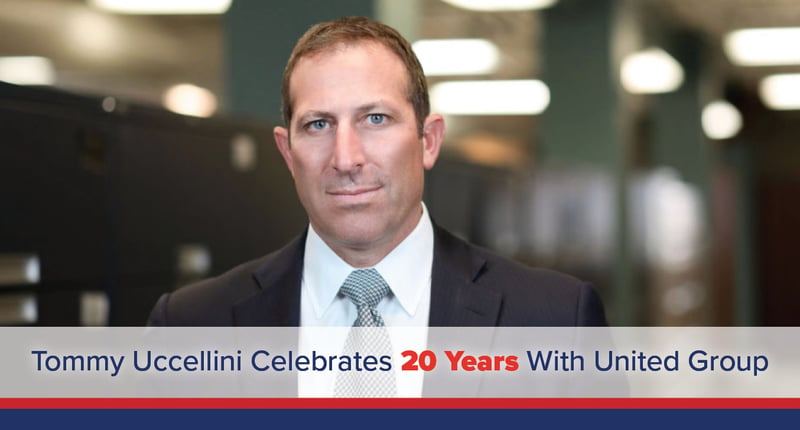 Today is a very special day for our United Group family, as we celebrate an important and exciting twenty-year work anniversary for an individual without whom our organization would not be where it is today – the one and only Tommy Uccellini.
Over the past two decades, Tommy has established himself, not only as one of the foremost leaders ushering in a new era of growth here at United, but as a best-in-class colleague, friend and mentor. Tommy's hard work, dedication and fun-loving personality has been a driving force behind creating the culture of success that has made our organization such an incredible place to work. His efforts, both in the office and out, have been directly responsible for everything from the closing of multi-million-dollar real estate deals to countless legendary lunches, dinners, golf outings and so much more. It's safe to say that almost all of us have a great memory or unforgettable Tommy story, a true testament to the type of co-worker and person he is – the best of the best.
To fully unpack Tommy's twenty years with United, you'd likely need a full day and a few friends to help you carry his employment records. It's truly not a stretch to say that, over the course of his career, he has been involved in nearly every facet of United Group's operation, leaving an indelible mark on countless development projects and playing an integral role in the organization's growth and success. In his current Senior Managing Director role, Tommy is responsible for sourcing, negotiating and closing leasing and sales transactions for new developments across the country, and his leadership, vision and tenacity have proven invaluable in helping bring our most ambitious projects to life.
Please join the United Team in offering our heartfelt congratulations to Tommy on reaching this incredible career milestone. Tommy – we are so grateful, not just for the tremendous job you do here at United, but for the many intangible ways you've made all our lives better, both at work and outside the office. Thank you for being you, and here's to the many more celebrations still to come.
Scroll down to read messages of congratulations from many of the colleagues who have had the pleasure of working with Tommy over the past twenty years, as well as dear friends and beloved family offering their best wishes on this great achievement. Congratulations on twenty years, Tommy!
I am so very proud of you. Not only the way you set your goals, but the way you achieve them. You are truly your mother when it comes to socializing with whomever you happen to meet, no matter what their status in life may be. Love you with all my heart, Dad.
Tommy my son - Congratulations on such a wonderful accomplishment. I'm so proud of you. I love you very much!!
Congratulations Tommy. 20 years is an amazing accomplishment. Each year you continue to learn, grow and achieve. Its fun watching you in your element. To many more.
I love you brother.
Mom's social skills, and dad's determination to succeed, has made you who you are today! But don't forget you've had Joey and I by your side, just for that alone, we've made you look good! Congratulations on your 20 years!
Danielle Uccellini-Roadcap


Tommy, Congratulations on your 20 years with United Group! It has been a joy to watch you grow through the years. My family and I are blessed to know firsthand your dedication to family and friends. Your strength, ambition and support has enriched the Uccellini and United Group family. Many thanks for helping us grow and develop. XO Aimee.
Congratulations Tommy on a successful past 20 years at United Group! You have not only made such a profound impact on United Group, but the lives of everyone in the Uccellini family. You have raised two incredible little girls who have been blessed with a loving, hardworking dad whom they can look up to. I am so fortunate that I have someone as special as you in my life as my godfather and cousin. We are all so proud of all of your success Tommy and know great things are to come in your future endeavors. Love, Isabelle
Tommy - It is a pleasure to work with you every day at UGOC. I love every minute of it. You are an intricate, vital part of UGOC and your impact on a daily basis is profound and significant! Congratulations on your 20 years and I look forward to working with you for many more years, growing UGOC, and continuing to create dynamic and successful communities. All my love!
Triple Duge! I will never forget meeting you during my interview process. I went home and told my wife, "you have to meet the CEO's cousins". It's been a pleasure getting to know you over the last 7 years. Thank you.
Congratulations Tommy!" Mr. Rogers wants you to have a beautiful day in the neighborhood to celebrate your twenty years at United! You've been a huge inspiration and truly are the Goose that laid the golden eggs! LOL. No one better than you! Thanks Partner!
Hey Bud. Good, Bad, or Indifferent, we all have a reputation to live up to.
Yours is Awesome Miracle Worker!!
Congratulations, It has been my honor learning and growing in this business with you.
Tommy is the only person who I have ever met and on that same day, felt like I have known my whole life. He adds incredible value to this organization and I am fortunate to call him a friend. Not to mention his greatly appreciated match making skills!
It's been a pleasure working with you these past 20 years, here's to another 20!
Tommy Uccellini Jr. is a special friend and I always enjoy conversations with him; he has a GREAT sense of humor, is a good golfer and does a magnificent job at his position in the Financing operations !! VERY TALENTED !! Knows everyone and is a fantastic husband and father. Love This guy . Hard to believe he has been with the Company for 20 years but he is certainly a tremendous asset !! What else can I say ?? HE IS ONE OF THE GOOD GUYS !! - Brother Graham.
Tommy- Congrats on 20 years! You are one of the most creative and inspirational team members here at United and I appreciate your passion and commitment to success. Your competitive nature and hard nose approach to every raise is how we achieve our goals. YOU WILL NOT BE DENIED! I really enjoy working with you and look forward to many more years!
I was trying to decide on the ONE significant memory I would mention or highlight about Tommy. Then it felt like fireworks were exploding in my head as I began to remember things that I haven't thought about for years. They made me smile, laugh out loud, and almost cry. A charismatic individual who seems to genuinely appreciate everyone he interacts with and gives people his undivided attention making people feel like they're the only ones in the room. Tommy is gifted in many ways and United is fortunate to have such a unique and inspired individual on the team. Congratulations on your tenure and for your many accomplishments! And no, you're not getting the new iPhone for your anniversary!
Congratulations Tommy on this milestone anniversary!
Tommy, if we were going by days in office – Happy 5th Year Anniversary at United. Just kidding!! It has been a pleasure learning from you during my decade at United. You have an unlimited ability to make connections with people and make everyone and anyone feel comfortable in any setting. You are one of the smartest people I have worked with, whether or not you want people to know that! You are a great dad and family man and you are a lunch spot selection, savant! Cheers to you my friend, congratulations on 20 years.
Tommy, wow, 20 years! Before I worked at United, I always wondered what you did here. After working for United for two and a half years, I think I know, but I'm still not 100% sure! Congratulations on 20 years!
Tommy, congratulations on 20 years!
Tommy is the best combination of laid back easy going and sharp intuition to convince others to invest in our dreams at UGOC. Most definitely one of a kind – if you can understand his mumblings, you're always in for a good story or laugh 😊 Congrats on 20 years, Cheers to 20 more!
Ode to Tommy Boy
A true team player who's part Jerry McGuire
There's no denying that he has the fire
A Uccellini who is tried & true
Tommy's the man who will always do
What can only be done when the pressure is on
For Tommy is the ambassador of Quan
Tommy Uccellini is a unique individual. His maverick style, the way he makes people feel and his overall business approach is uplifting and energizing. There is no doubt that Tommy is one of the vital cogs in the United wheel that helps to keep the company running successfully. I heartily congratulate Tommy on this milestone anniversary and wish him every joy and good health as he begins the next chapter.
Dude.
Tommy, congratulations on 20 years with UGOC. I don't work directly with Tommy, but I admire the fact he always has a smile on his face and is enjoying what he is doing. I don't know many people in this world I can say that about. Congrats again and here's to many more years!
Congratulations Tommy. Here's to them next twenty!!!
Tommy's gift is his ebullient personality and his passion. He makes his work look effortless and his ability to attract investors is remarkable. Tommy is a great friend and I wish him 20 more great years at UCOC🤗
Tommy Uccellini has been an expiring God to me. We first met in Vietnam in '68, sharing the same tent. Being there 3 months prior to my arrival, he educated me on keeping my feet dry, head down and making coffee in my helmet. The story I tell my grandchildren, is the night we were on patrol just south of Buo Na Thuot sleeping in our humid extremely hot tent, when all of a sudden we were ambushed by Charlie. Wounded with shrapnel from a friendly fire grenade, Tommy carried me to safety just as the bombers lit up the entire area. God placed him on this earth for a reason, and I was the reason…..
PFC, David Fusco 104th Infantry
Tom I can't believe it's your 20 year work anniversary! 1) I did not know you were that old! 2) I didn't think you worked! I am used to golfing, boating, skiing and dining with you.
This quote fits you best "if you work at what you love to do....
You will never work a day in your life."
Congratulations ....and may there be many more years to come.
Tommy, Loyalty is Priceless. Keep up the great work!
Tommy, Congratulations!! I can't believe I missed out on 18 years of lunches and dinners with you. I am looking forward to 20 more years though. All the best to you and your team.
Congratulations Tommy! Twenty years is an incredible achievement – kudos to you!
Tag(s):