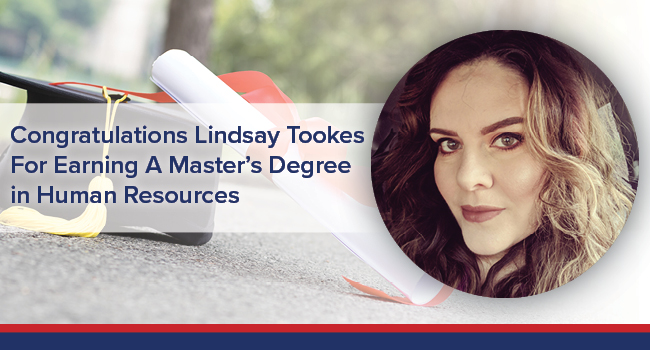 UGOC Spotlight: Lindsay Tookes Earns Master's Degree in Human Resources
March 13, 2018
by:

Greg Eves
When we asked Lindsay Tookes, United Group's Compensation and Benefits Manager, why she decided to further her education and pursue a Master's Degree, she said, "I hate it if I don't know something."
Tookes, a Texas-native who moved to New York in 2007, spent the past two years taking online courses and exams to earn a Master's Degree in Human Resources from Southern New Hampshire University.
"I understand the importance of furthering my education; we're never finished learning new things, and there's always room to grow in a career," said Tookes. "I'm very thankful for the encouragement from United Group, and the opportunities they offer their employees to continue to learn more about the industry."
Each year, several United Group employees decide to undertake the rigors of balancing a full-time job, classes and coursework, and raising a family. Whether an employee decides to take courses in graphic design, property management, finance or human resources, the United Group is committed to employee's success and career growth.
"Pursuing a master's degree opened my mind to the theoretical and strategic aspects of human resources," said Tookes. "I've always enjoyed learning on-the-job, and attending conferences and seminars, but I really grew to appreciate learning in the online classroom as well."
Tookes also mentioned that her biggest obstacle was trying to balance life with a four year old daughter, complete the extensive coursework requirements, and work full time.
"I stayed focused, and refused to get a 'B' in any of my courses," said Tookes.
"All of us at United Group are proud of Lindsay's latest achievement," said Joan Cavanaugh, Vice President of Human Resources. "Her hard work and dedication paid off, and we're confident that her new skills and expertise will continue to make our human resources department even more dynamic."