January 28, 2022
UGOC SPOTLIGHT: United Group Celebrates January Work Anniversaries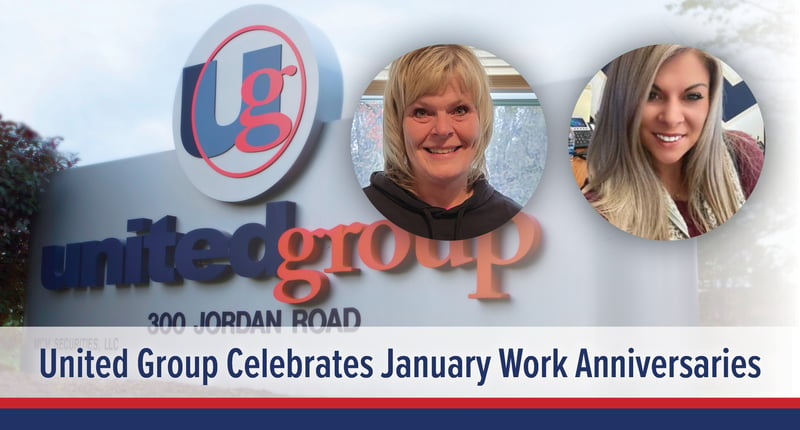 For the first time in 2022, United Group is thrilled to have the opportunity to recognize two important members of our team who are celebrating milestone work anniversaries this month. Congratulations are in order for Parkstead Gouverneur and Parkstead Philadelphia Property Manager Stormy Cox and Parkstead Watertown at City Center Maintenance Technician Jody Pierce, both of whom have reached their fifth year with United Group.
Both Stormy and Jody have established themselves as beloved fixtures at our Parkstead Communities in Northern New York, demonstrating not only a willingness to go above and beyond for their residents, but a passion for their respective jobs that serves as an example for our entire team to follow.
Since joining United Group in January 2017, Stormy has made herself an indispensable member of the Parkstead Team. In her time with UGOC, she has proven to be a top notch manager and colleague, guiding and supporting her residents and team and always ready to tackle whatever each day throws at her with a smile on her face and a great attitude. Stormy is a hard worker, always ready to learn and prepared to support others with her skills and expertise gained throughout her career – the sign of a truly talented manager.
Jody began her United Group career five years ago as a Porter at Huntington Heights (a community that we no longer manage). She transferred to Parkstead Thompson Park in the same role and recently earned a promotion to Maintenance Technician at Parkstead City Center. You'd be hard pressed to find a harder working member of our team than Jody, whose work ethic, can-do attitude and supportive nature have endeared her to residents and coworkers alike. We're so grateful to have her on the team, and looking forward to many more years working together.
Scroll down to learn more about Stormy and Jody and their time with United Group, and please join us in offering both of them our heartfelt congratulations on reaching this milestone work anniversary. Congratulations and thank you, Stormy and Jody!
Stormy Cox
Property Manager, Parkstead Gouverneur and Parkstead Philadelphia
1) What do you remember about your first day with UGOC?
On my first day with United Group, I drove out to Troy for training and had the opportunity to meet the corporate team and work with them for a few days. I learned a lot of useful information during that time that I still use today. Funny story about that Troy trip: I moved here from Texas and had never experienced snow like we have up here. After I completed the trainings, I started my trip back home to Gouverneur and ran into a big snow storm! I wasn't sure what to do, but thankfully the sweetest police officer pulled up to help me and make sure I was ok. He actually gave me a police escort all the way through Lewis county and taught me how to drive in the snow that day. That is certainly a trip I will never forget!

2) Are you in the same role? What has changed about your role?
I started working in the property management industry when I lived in Texas. I moved to New York in 2016 and continued the property management journey with United Group as a property manager in January of 2017 at Parkstead Gouverneur (then Constitution Court). I am still a property manager, but I now manage both Parkstead Gouverneur and Parkstead Philadelphia.

3) Tell us what an average day at the office looks like:
There really is no average day at the office in property management. Depending on the time of the month and time of the year, any day can be completely different from the next. We have slower days and some days you just don't stop going. From leasing, resident relations, hosting events, helping maintenance, keeping our offices running smoothly, make ready planning, ordering and maintaining supplies, preventative measures, damage control, upgrades, renovations, dealing with contractors, bills, court, notices, marketing, reports, more paperwork, etc. You name it, we do it. You never know which hat you're going to have to put on for the day, but you learn in time to wear them all.
4) Tell us one of your favorite early memories from your office:
When I first started in Gouverneur, I had the opportunity of leasing one of our homes to the sweetest couple. They were so nervous about everything as they had lived in their home for 30+ years in another town and had no idea how the process worked or even a thing about renting. I walked them through everything even teaching them how to set up and use an email for the first time! We got them all set up over a series of meetings and phone calls over a couple weeks. After they moved and got settled in, they came to visit me in the office bringing me the prettiest bouquet of flowers. They still live at our community and remind me often how much they appreciate us. Being able to help people and moments like that are what makes all the hard work worth it.

5.) What do you love most about United Group?
The learning opportunities provided through our company are far greater than any I have ever experienced with any company. I appreciate that our owners and leaders at all levels care and make a point to be involved with us and our communities. They even take the time to visit our sites personally to ensure success for our teams. That is something I was not familiar with before moving to NY. I also appreciate our company's investment in our personal development as mangers by providing training and opportunities for us all to come together and learn and grow in the industry. I am also blessed with a great team that works hard. We all work together wherever we are needed to ensure our communities run smoothly. I would say that has been one of the greatest blessings since moving to the North Country. We have experienced some turnover through the years, and I still work with many that I have since day one, but everyone I have had the opportunity to work with has always been willing to go above and beyond to help and get the job done.

6.) What advice do you want to give yourself now, after working for the United Group for the past 5 years?
Hard work does pay off, always remind yourself of that even on the difficult days. Never hesitate to seize the opportunity to continue to grow and learn. AND just keep striving to spread sunshine wherever you go!
Jody Pierce
Maintenance Technician, Parkstead Watertown at City Center
1) What do you remember about your first day with UGOC?
My first day I was pushing a cart with all my cleaning supplies on it through the snow trying to get all of the common halls cleaned! I honestly didn't think I would show up for day two but here I am 5 years later! :-)
2) Are you in the same role? What has changed about your role?
I started at Huntington Heights in January of 2017 as a porter and then transferred to Parkstead Thompson as a porter in November 2017. In September 2020 I transferred again. This time to Parkstead City Center as a porter and just recently I moved up to maintenance tech at City Center although I still do the cleaning but I also help with maintenance!
3) Tell us what an average day at the office looks like:
An average day is pretty busy between getting the apartments ready, delivering notices for the office and anything else that comes my way.
4) Tell us one of your favorite early memories from your office:
This could range from having lunch with everyone (the team) to having a resident chase me through the common Hall just to torment me! :-) His name was Floyd and he was one of my favorite residents!

5) What do you love most about United Group?
I love my work family they are a big part of my life! Especially Brian Burns (he made me say that lol)


6) What advice do you want to give yourself now, after working for the United Group for the past 5 years?
Advice I would give myself is to keep going don't stress out because I know I've got this!
Tag(s):