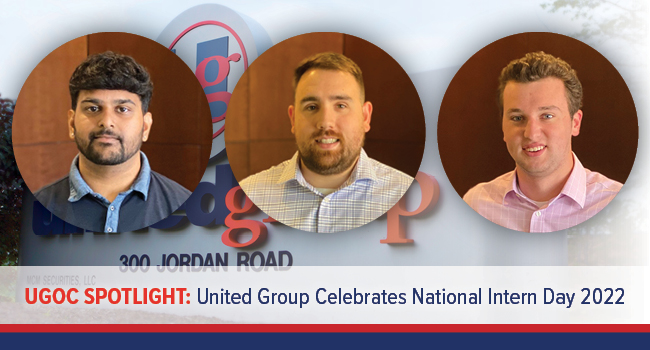 UGOC Spotlight: United Group Celebrates National Intern Day 2022
July 28, 2022
by:

United Group
Today United Group is celebrating National Intern Day! In honor of the holiday, we're thrilled to highlight our three incredible interns: Dhanraj Lokenauth, Eddie Sousa, and Liam McDonald.
Dhanraj Lokenauth, Accounting
When Dhanraj was a senior in high school, he signed up for an Accounting course simply to fill an open space in his class schedule. To his surprise, he was drawn to the course material, as he found it gratifying to solve the challenging problems the class posed. Encouraged by family members of his who also are in the field, Dhanraj enrolled in a 5-year BS/MS dual degree in Accounting at The College of Saint Rose in Albany, NY.
Dhanraj began his internship with United Group this March and has been enjoying the hands-on experience he's gained so far. He's excited to see what's in store for his career after he completes his master's degree next May!
Eddie Sousa, Accounting
After concluding his time in the United States Army, which included a tour in Iraq, Eddie's interests in math and business inspired him to enroll in The College of Saint Rose's 5-year BS/MS Accounting program.
Eddie started with United in September of 2021. Almost a year later, he's continuing to enjoy working with the Accounting team as he furthers his skillset and learns more about the field. Even after he earns his master's degree this December, Eddie isn't planning on slowing his focus on career development anytime soon: he hopes to become a Certified Public Accountant (CPA) someday.
Liam McDonald, Human Resources + Management
From a young age, Liam's proximity to his family's business (a thriving local pharmacy) gave him an insider perspective on what it takes to run a company. This robust background knowledge compelled Liam to study Management at Siena College, where he is a rising senior. He will also pursue an MBA at Siena beginning this upcoming spring semester.
Liam's interest in Human Resources specifically was sparked by a course on the topic that he recently took as part of his ongoing Bachelor of Science program. Liam joined us at United this May, and he's since explored numerous facets of Human Resources and organizational management.
Liam's grandma has imparted a sage piece of career advice upon him: "Find a job that you love, and you will never work a day in your life." Accordingly, after he completes his MBA, he hopes to find a job that he's passionate about and can grow in.