January 28, 2021
UGOC Spotlight: United Group Recognizes January Work Anniversaries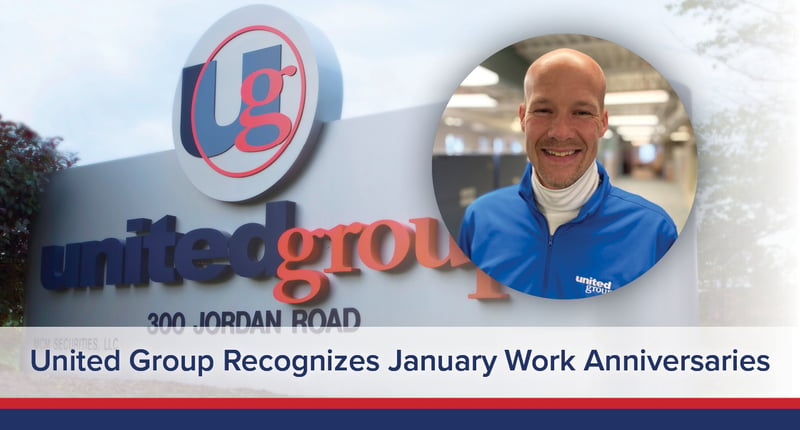 For its first work anniversary spotlight of 2021, United Group is thrilled to recognize Scott Pomainville and congratulate him on his milestone fifth year with the organization. As a Property Accountant, Scott has cemented himself as an invaluable member of United's corporate team working out of Troy, New York, and the impact of his contributions has been felt at many of our properties across the country.
Scott's great attitude, tireless work ethic and desire to go above and beyond in his position has led to many great successes over the last five years, but it's his eager willingness to step in and help his colleagues that makes him such an incredible coworker. We are looking forward to benefitting from his hard work and talent for many years to come.
Happy work anniversary, Scott, and thank you for everything you do! Learn more about Scott's career with United Group below!
Name: Scott Pomainville
Role: Property Accountant
1.) What do you remember about your first day with UGOC?
My first day with UGOC, I remember that everyone was very welcoming when I was brought around for introductions.
2.) Are you in the same role? What has changed about your role?
Yes, I am in the same role. I still do accounting for the properties that are assigned to me. One of the changes to my role came about a couple years ago, when I was able to work on a development project (Hamilton Lakeside). In the past, the accountants took over the accounting for development projects after the certificate of occupancy was issued. I got involved with the Hamilton project right from the beginning, tracking the costs, preparing monthly draws and doing the monthly reporting. A little over a year ago I was assigned another development project, and was just assigned another one a couple weeks ago.
3.) Tell us what an average day at the office looks like:
Who works at the office anymore! Whether I am working at home or my scheduled days in the office my average day can vary. Most days consist of logging into the banks to update my cash sheets for my properties, selecting payables to be paid and working on the monthly financials. Other stuff will come up each day, such as helping out a co-worker, requests from Tracey, updating cash flows, etc.
4.) Tell us one of your favorite early memories from your office:
One of my favorite early memories is meeting Graham and hearing some of his jokes and of course his golf stories. I enjoy playing golf so hearing those golf stories was interesting.
5.) What do you love most about United Group?
I love the people I work with and the flexibility. I've especially been thankful for the flexibility during the COVID19 pandemic in which I was able to continue to work but from home. Also, I've appreciated the flexibility if I have needed to leave work early to go watch one of my kids play sports.
6.) What advice do you want to give yourself now, after working for the United Group for the past 5 years?
Can't really think of any advice. Maybe continue to be who you are and continue to work hard.
Tag(s):