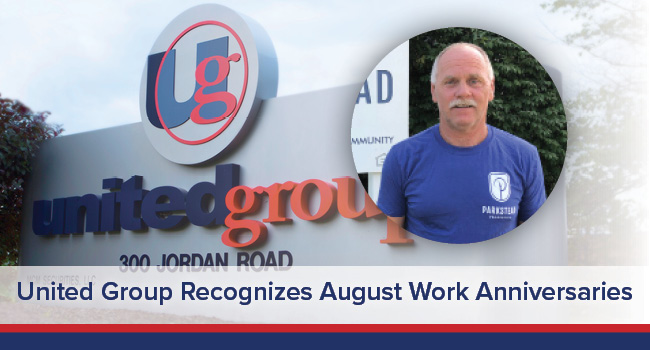 UGOC Spotlight: United Group Recognizes August Work Anniversaries
August 25, 2020
by:

Greg Eves
Kevin Hubbard, a maintenance technician at Parkstead Clayton is celebrating his milestone, fifth work anniversary with United Group during the month of August, and the company is proud to recognize his commitment to his job, colleagues and residents.
Kevin began his career at Parkstead Watertown at Black River before transferring to Parkstead Clayton. He's done a tremendous job taking on various projects and challenges throughout his career and has played an invaluable role at Parkstead Clayton.
United Group is very appreciative of Kevin's hard work during these past five years. Thank you for everything that you do, Kevin!
Learn more about Kevin's career with United Group below!
1.) What do you remember about your first day with UGOC?
I started onboard at "Mountaineer Estates" which is now Parkstead Watertown at Black River and then transferred to Parkstead Clayton. I was very happy to begin my position as a Maintenance Technician.
2.) Are you in the same role? What has changed about your role?
I am still a Maintenance Technician.
3.) Tell us what an average day at the office looks like:
The day goes by fast as we are very busy! Which is a good thing!
4.) Tell us one of your favorite early memories from your office:
I've enjoyed the events! I also enjoyed working with Otis and other property teams when we needed the extra hands at our property.
5.) What do you love most about United Group?
Our team works well together. Benefits are great. The extra week vacation is nice too!
6.) What advice do you want to give yourself now, after working for the United Group during for past 5 years?
I would let myself know all the knowledge I have gained to make my job easier. I have learned a lot from Gene and Otis through the years. Tricks of the Trade to make tasks easier to complete in a timely manner.