March 31, 2020
UGOC Spotlight: United Group Recognizes March Work Anniversaries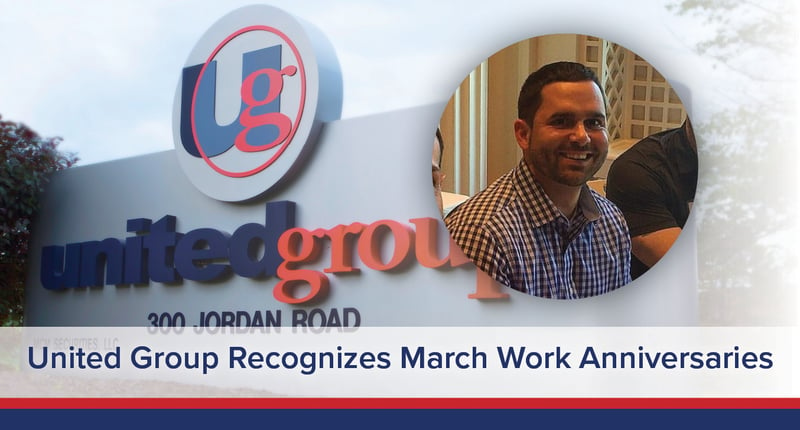 March 2020 marks Mike Malpass's five-year work anniversary with United Group. Malpass is the property manager at Schaffer Heights, an independent senior living community in Schenectady, NY. United Group is proud to recognize his efforts and dedication to his residents, employees and community.
Malpass began his career with United Group as an assistant property manager at Schaffer Heights, teaming up with then property manager Chris Wiltey. The pair quickly leased Schaffer Heights to 100% occupancy and proclaimed themselves "The Charmers" due to their abundance of charm, good nature, and devotion to excellent customer service when working with a resident or prospect.
Wiltey would eventually transition into United Group's student housing portfolio, causing "The Charmers" to break up, but fortunately this "break up" story ends in a positive light. Malpass would become Schaffer Heights' new property manager and has continued "The Charmers" legacy, maintaining a near 100% occupancy and always satisfying residents and prospects.
When Malpass isn't charming his residents and prospects, you can find him spending time with his wife and two sons Jacoby and Rocco. A diehard baseball fan and adult softball league legend, Malpass named his son after New York Yankee-great Jacoby Ellsbury. Malpass also enjoys participating in several fantasy football leagues each year and is often very vocal about league rules.
United Group is very thankful for everything that Mike Malpass has accomplished for our company and the residents at Schaffer Heights. Read more about Mike's experience with United Group, below!
1.) What do you remember about your first day with the United Group?
I can't recall what I ate for dinner last night, let alone a day 5 years ago! What I do remember is being slightly anxious to start this new job, but that was quickly diminished by the staff and tenants at Schaffer Heights.
2.) Are you in the same role? What has changed about your role?
I began as an Assistant Property Manager at Schaffer Heights. Currently, I am the Property Manager at Schaffer Heights where I have held this position for 3 1/2 years. In my current position I handle a lot more of the operational side of the business than I did previously.
3.) Tell us what an average day at the office looks like:
There is no average day at the office. In this profession, things are constantly changing. I could hold a staff meeting at 8 am about our day, and that could completely change by 8:15 am. Each day brings a new challenge and keeps me on my toes.
4.) Tell us one of your favorite early memories from your office:
Chris Wiltey, Property Manager at the time, and I quickly leased the building to 100%, Chris decided to officially name us "The Charmers", claiming that we would charm the heart of any prospect who walked through the door. I cannot speak for Chris, but I am pretty confident I have more charm to give. I can't wait for Ashley's comment on this one Ha-ha
5.) What do you love most about United Group?
The people-tenants and staff. Of course, our fantasy football league as well. Minus Corey "The Corey" Deame.
6.) What advice do you want to give yourself now, after working for the United Group during for past 5 years?
Be prepared to exercise a higher level of patience. Always expect the unexpected: COVID-19.
Tag(s):