October 22, 2020
UGOC Spotlight: United Group Recognizes October Work Anniversaries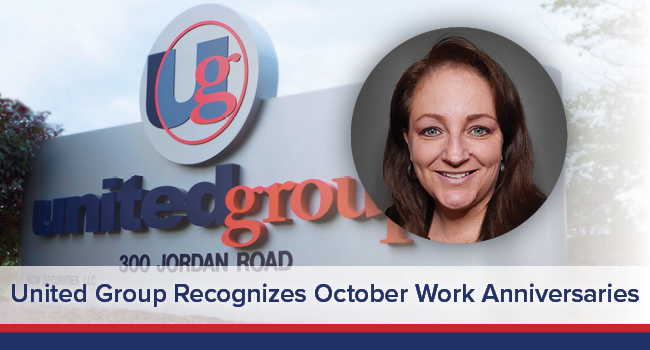 Schuyler Commons's property manager and Buffalo Bills enthusiast, Jillian Ksiadz, is the one and only United Group employee celebrating a work anniversary during the month of October.
Jillian has worked at Schuyler Commons, an independent living community in Utica, NY, for five years and has done a tremendous job creating a fun and upbeat environment for her residents. United Group is proud of her leadership skills and constant enthusiasm for her career.
Thank you for all you do, Jillian. Keep up the great work!
Learn more about Jillian's career with United Group below!
1.) What do you remember about your first day with UGOC?
It was actually the day before I started, I had stopped in to introduce myself to Sara McCloskey, the assistant manager at the time. Before I even made it through the door, residents came right up to me and asked if I was the new girl and they were welcoming me with open arms and telling me how much I was going to love it here! After the greeting by the residents and meeting Sara, I knew I made the right decision leaving my old position to work at Schuyler Commons
2.) Are you in the same role? What has changed about your role?
I was hired as the Marketing & Leasing Specialist, shortly after, Sara and I were promoted, and I became Sara's Assistant Manager. In March of 2017, I was promoted to Property Manager when Sara took a new position in Troy. I have much more on my plate now, but I'm still able to help my staff with questions because I have been in their shoes.
3.) Tell us what an average day at the office looks like:
BUSY! Pre-pandemic, it was a rotation of residents coming in and saying hello or telling us about their grandkids. Now it is more phone calls and emails, and when we do see a resident out and about, its much more exciting because we don't get to see them the way we used to. And of course, reports, reports and more reports… =)
4.) Tell us one of your favorite early memories from your office:
One of my earliest memories is sitting in the great room with my very first prospect. I was able to tell them that the style apartment they liked became available but was nervous because they weren't looking to sign and move in so quickly. After talking with them for a bit they signed … and now Anita is works with me in the office as my office assistant! She didn't know until recently that she was my first lease at Schuyler Commons.
5.) What do you love most about United Group?
What I love about United Group is that you aren't just a number. I have worked for large corporations and family-owned businesses and I have always been happiest at the family-owned businesses because you can reach out to who you need.
6.) What advice do you want to give yourself now, after working for United Group for the past 5 years?
Deep breath and don't let the few negative Nelly's burst your bubble!
Tag(s):