February 24, 2021
United President and CEO Michael Uccellini Celebrates 30-year Work Anniversary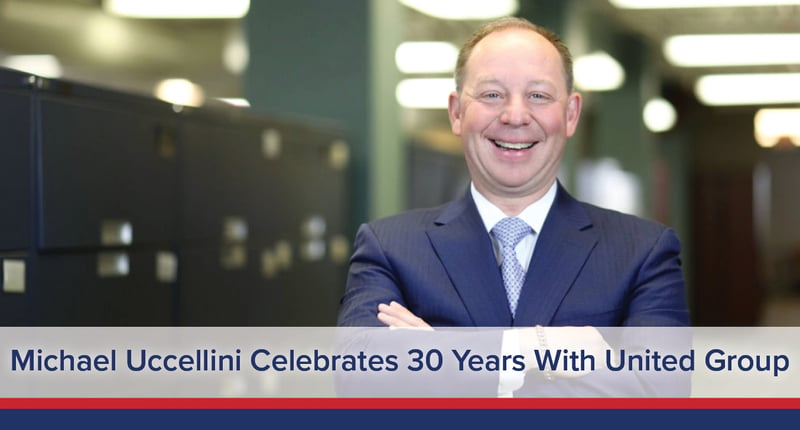 This week, United Group is thrilled to celebrate a momentous milestone for our President and CEO, Michael Uccellini – his 30-year work anniversary with our organization.
Michael began his journey with United as a Development Specialist and Commercial Property Manager in 1991. He quickly rose through the ranks to become a Regional Manager before being named President, first of United Realty Management Corp, AMO® and United Development Corp shortly after. In 2006, Michael become President and CEO Of United Group, and the rest, they say, is history.
Under Michael's visionary leadership, United has enjoyed a period of tremendous growth and success, earning numerous accolades and growing the business to include over $1 billion in development projects. We could not be more grateful to have such a driven, energetic and enthusiastic individual leading the charge into this exciting time for our organization.
Michael's impressive business acumen and innovative approach to his role as President and CEO is matched by an equally dedicated devotion to his team. His guidance and mentorship has provided countless members of the United Family with the tools and skills they need to excel and grow in their careers, and in turn has positioned the company for continued advancement and expansion for many years to come.
It's impossible to overstate just how important Michael has been, not only to United Group's many triumphs over his tenure, but to making this company such an incredible place to work for the last three decades. On behalf of the entire United Team, we'd like to wish Michael our heartfelt congratulations for reaching this incredible milestone. We're looking forward to many more years with him at the helm, and are confident that, under his guidance, United's best days are still to come!
Scroll down to read messages of congratulations from many members of our team who have had the pleasure of working with Michael over the years, and please join us in celebrating the incredible career of our leader – Michael J. Uccellini.
Michael,
Congratulations on 30 years of dedication to a career that has touched the lives of so many. Your personal and professional accomplishments and success have created life-long memories for our residents, our employees, our business partners and the communities we serve. We are thankful and forever grateful to you for choosing a path you seem to have been destined for.
We can't wait to see what's still to come!
"Michael, been with you your whole life, from your Great Grandmother changing your cloth diapers to developing multiple million dollar projects. We are Family. Congratulations and remember, I will always have your back.
"Uncle Tom" (Thomas H. Uccellini Sr., Executive Vice President)
"Congratulations Michael on 30 years with United Group! You are one of the most accomplished individuals I know and I have learned many, many things from you over the years. It seems like yesterday that you toured me to our site locations when I started and afforded me the opportunity to understand the business from your perspective. I remember being impressed that everyone knew you and that you knew everyone by name! I enjoyed the many stories about employee experiences throughout our travels. I knew instantly that this company was different because you made it different and it was part of you. The passion for what you do, and how you do it, still shines through today. We are all lucky to be part of something so special, thank you."
Joan Cavanaugh, VP – Human Resources
"We've shared laughter, we've shared tears, and I am truly blessed to have been able to work with you and for you all these years. Happy 30th United Anniversary – Here's to another 30 of us working together."
Karen Schlederer, VP – Development Services
"Bro!"
Tommy Uccellini Jr., Sr. Managing Director
"Michael, welcome to the 30-years plus club. It is hard to believe it has been that long, it only seems like yesterday that you were working summers with us as you attended college. Thank you for all that you do, especially these last nine years. You have been doing a great job moving the company forward."
"Thirty years! Congratulations on an incredible milestone and wishing you many, many more great years to come."
Pete Angus, VP – Sales and Marketing
"Michael ; Thirty Years and still going strong ! Flew back from Florida on a Friday evening and played 5 hours of pond hockey at TCC ; LOTS AND LOTS OF ENERGY!! Seems like only yesterday you interviewed me some 23 years ago; That made a pair that will beat a full house .CONGRATULATIONS on 30 years, may you have another 30 . My VERY BEST FOR YOU AND YOUR FAMILY ALWAYS!!"
Graham Thompson, Regional Property Manager
"Michael is one of the most knowledgeable people I have met in all aspects of real estate. I can't begin to describe everything I have learned since my arrival to United. More importantly, Michael is very family oriented, and I have learned just as much off the field from him. Happy 30th and here's to 30 more years!"
Jeff Arnold, Chief Operating Office
"Michael, congratulations on 30 years! The success United Group has achieved is a direct reflection on the hard work and dedication the Uccellini Family, and you in particular, have put into this company. It's a pleasure being a part of what has been built here. The future is bright at United, thank you for leading the way."
Mike DiGiacomo, VP – Senior and Student Housing
"Thirty years. You have created an award-winning management and development company, We have developed some amazing properties, and you are a recognized leader in the industry. I am fortunate to have worked and learned from you for so long and I look forward to our next great community. Congratulations, Walter is Proud."
Tim Haskins, Director of Project Development
"Michael, congratulations on your 30th work anniversary! What an amazing milestone! I've had the privilege of being under your leadership for over 14 years. During the period when you were our Interim Regional you kept me on my toes! Your brilliance has always been an inspiration to me and your laugh is absolutely infectious and can make anyone smile and laugh right along with you! I look forward to many continued years working for you and your company! Many congratulations on your happy work anniversary!"
Stacey Spinner, Senior Property Manager
"Congratulations on your milestone achievement and the success story that is your New United Group! Looking forward to the next 30!!"
Micheline Moncur, Construction Project Coordinator
"I've known Michael since he was a college student in the late 80's, when he worked with UGOC in the summers. Working with him after Walter's passing has been an honor. Michael has a brilliant real estate and financial mind, while his leadership skills have taken the company to impressive heights. On top of that he is a solid family man and a loyal friend. Congrats on 30 years!"
Jeff Bray, Executive Vice President
Congratulations Michael on 30 years of doing great things for United Group. You have had an amazing impact on my life personally. Your business acumen is amazing and I believe all of us have learned a great deal from you. I want to thank you for all that you've done for the company as well as all the people that work for United. You are a great leader and I look forward to the next 30 years!
Keith Axelrod, Managing Director - Finance
"Michael, Congratulations on your 30-year anniversary! Thank You for your leadership over the years. I wish you all the best in the years to come!"
Gene Gilbo, Maintenance Technician
"Michael - All these successes in all these years would not have been possible if this company didn't have someone like you leading us from the front. Thank you for making a difference in our lives. Happy anniversary!"
Beatriz Beecher, Property Manager
Michael- I am incredibly blessed to be a part of this organization and to have had the opportunity to learn from you these past 4+ years. I appreciate everything you do for all members of the United Group family. You inspire me to be the best I can be every day and it is with the warmest regard, utmost pride and gratitude that I say, Congratulations on 30 years, I look forward to many more!
Tracey Poissant, Controller
"Congratulations Michael! What an amazing 30 years it has been and so inspiring to see your success at United Group. You are clearly in the career that was meant for your talent and innovation. Your employees are so fortunate to have a leader like you! I feel privileged to have been a resource to your company, your employees and most particularly you and your family. Well done sir!"
Carol Rappaport, Financial Advisor
Bravissimo, Michael! Achieving this impressive milestone deserves recognition and applause. It's been clear to me from our first meetings that hard work, long hours, supreme commitment and boundless determination all define the MJU work ethic, successfully reflected in how you serve United and your clients. I'm proud to be partnering with you and the work family you continue to create. Wishing you great fulfillment and unlimited successes over the next 30 years. Molto ben fatto!
Jan Vincent, JV Consulting Human Asset Management