August 18, 2017
Utica Welcomes Newest Apartment & Townhome Community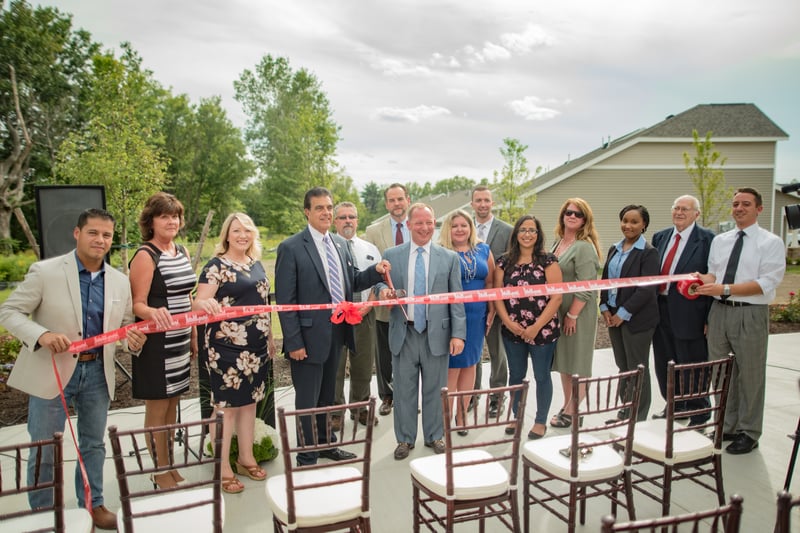 Deerfield Place, Utica's newest multi-family apartment and townhome community, located within minutes of the SUNY Polytechnic Institute campus, celebrated their grand opening on Thursday with an official ribbon cutting ceremony.
Dozens of families and Utica residents were on hand to tour the community's unique facilities and mix of one, two, and three bedroom garden-style apartments and townhomes. Invitees also heard from special guest speakers including: a representative from New York State Assemblyman Anthony Brindisi's office, County Legislator Emil Paparella, City of Utica Mayor Robert Palmieri, City Utica Councilwoman Samantha Colosimo-Testa, and The United Group of Companies Inc. President and CEO Michael Uccellini.
Construction of the sprawling $29.6 million multi-family community began in June 2016, and is located off of Trenton Road and Settlers Passage at 1 Patriot Circle in Utica, on a former bean farm. The community consists of 21 residential buildings and 156 apartments and townhomes ranging from 1,140 to 1,840 square feet, and also includes a community fitness center, clubhouse, lounge room, and an outdoor swimming pool and patio. Each apartment and townhome is equipped with their own private entrance, garage, balcony and laundry unit.
"Deerfield Place offers the city of Utica a unique opportunity a to live a maintenance-free lifestyle," said Jacqueline Shafer, Regional Manager at United Plus Property Management. "Our residents live busy lives; they appreciate the convenience Deerfield Place provides, like snow and trash removal, a 24 hour maintenance crew, and lawn care. Deerfield Place is also designed to accommodate a resident's desire for privacy, which is why every apartment and townhome has their own private entrance, garage, and balcony."
Shafer also mentioned that the apartments and townhomes all include wood finished flooring, granite kitchen and bathroom counters, and stainless steel amenities.
Deerfield Place is actively signing leases for their brand new apartments and townhomes. The community is managed by United Plus Property Management, LLC located in Troy, NY.
Tag(s):