February 15, 2022
Michael DiGiacomo Promoted to Vice President of Operations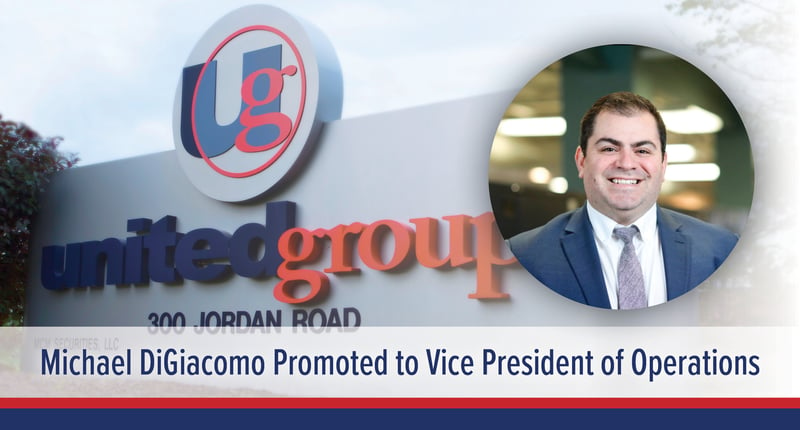 Today, United Group is thrilled to announce an exciting advancement for an important member of our team. Recognition is in order for Mike DiGiacomo, who will be taking on the role of Vice President of Operations for United Plus Property Management, AMO®. Please join us in offering our heartfelt congratulations to Mike, on this well-deserved promotion.
Over the past eleven years, Mike has been a stalwart member of the United Group Team, excelling at every stop in his decorated career with our organization. Mike began his career with us in 2012 as the Property Manager of Schaffer Heights and quickly proved himself as a critically important piece of the company's continued success, moving to Schuyler Commons, the Company's newest development deal at that time. His dedication, proficiency, and skill earned him well-deserved promotions to Operations Manager in 2014, Regional Manager shortly after and, most recently, the role of Vice President of Senior and Student Housing.
Mike has played a vital role in United Group's recent growth and expansion, managing a diverse portfolio consisting of 4,000 senior apartment units and 1,600 student beds. In his new role, Mike will take on increased responsibility in all phases of United Group's management operations, and will play an invaluable role overseeing United Group's growing team as the organization continues to establish itself as an industry leading presence in the senior, student, multi-family, commercial, and retail real estate sectors.
Mike has earned several accolades in his time with our organization – a testament to not only his dedication to his position, but his expertise and experience in this dynamic industry. Most recently, Mike earned the prestigious Certified Property Manager of the Year award through the Institute of Real Estate Management in 2020, widely regarded as one of our industry's top honors. It's clear that the sky is the limit as Mike continues to climb the ranks and establish himself as one of real estates' up and coming leaders.
We are proud of Mike for all he has accomplished in his career with United Group and couldn't be more thrilled to have him leading the charge as we enter this new and exciting chapter for our organization. Congratulations, Mike! We're looking forward to an exciting future together.
Tag(s):