May 28, 2021
UGOC Spotlight: United Group Celebrates Dawei Liu's Five-Year Work Anniversary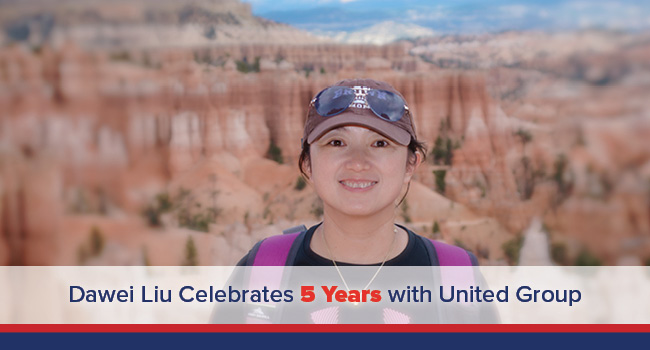 This month, we have the pleasure of recognizing a milestone five-year work anniversary for a very special member of our team - Property Accountant Dawei Liu.
Since beginning her United Group career as a Staff Accountant in 2016, Dawei has always gone above and beyond in her duties, earning a well-deserved promotion to her current role in 2017. Dawei's tireless work ethic, can-do attitude and proven expertise in her position has allowed her to play a significant role in many of our biggest projects and has cemented her as an invaluable member of the United Group team.
Dawei's colleagues in accounting consider her to be the departments' best co-worker, not only due to her timeliness, accuracy and dependability in her work, but her great sense of humor and friendly demeanor as well. In her time here at United, Dawei has proven to not only be a model employee, but a great friend, and we couldn't be more grateful to have her as a member of the United Family!
Scroll down to learn more about Dawei and her impressive career here at United, and please join us in congratulating her on this tremendous achievement. We're so proud of everything you've already accomplished here, and looking forward to many more years working together. Congratulations, Dawei!
Dawei Liu
Property Accountant
What do you remember about your first day with UGOC?
My first day with UGOC was a full day of Yardi training. The second day was another full day of Yardi training. Third day…Yardi training as well.
Are you in the same role? What has changed about your role?
No, I am not in the same role. When I first joined United Group, I started as a staff accountant. My responsibilities included accounts payable and various accounting projects assigned to me. I was then promoted to property accountant role.
Tell us what an average day at the office looks like:
There is no 'typical' day at office. One day I might be busy replying to emails and answering questions from owner/sites/team members. The next day I could be busy with requests for financial analyses.
Tell us one of your favorite early memories from your office:
I have a lot of lovely memories from my office, and it's hard to decide on just one: Two Reese's Mini Peanut Butter Cups from Graham every time I visited his office; ATeam Christmas Ornaments from Stephanie; when I made mistakes, Nicole telling me "No worries, everything can be fixed"; when I had no confidence on my transition to property accountant role, Tracey showed her faith and supported me, letting me know she would be always there to offer help.
What do you love most about United Group?
What I love most about the United Group is that it makes me feel like a valued family member instead of an employee. People take note when you work and hard and push yourself, and that behavior is recognized and rewarded. There are always endless opportunities for growth and advancement for those who aim to achieve more.
What advice do you want to give yourself now, after working for the United Group for the past five years?
Don't be afraid to get outside your comfort zone. You're surrounded by colleagues who will support you through each new challenge. Help is always just around the corner!