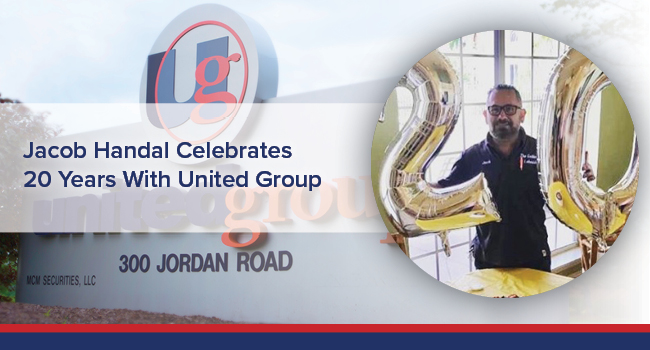 UGOC Spotlight: Jacob Handal Celebrates 20 Years With United Group
October 4, 2019
by:

Greg Eves
Jacob Handal, the maintenance supervisor at The Gables at Lakeside, recently celebrated his twentieth work anniversary with United Group. Jacob began his career at The Gables at Lakeside in 1999 as an assistant maintenance supervisor and was promoted to maintenance supervisor in 2004.
Jacob was born in El Salvador, and eventually relocated to Puerto Rico before moving to Philadelphia, PA, where he became a passionate Philadelphia Eagles fan. He then moved south to the Orlando area, where he now resides. Jacob also has a son and daughter, and when the Eagles aren't playing, enjoys going to the movie theater.
His colleagues at The Hamilton at Lakeside and The Gables at Lakeside celebrated the milestone work anniversary with lunch and cake at the community's clubhouse. The United Group Team created a video congratulating and thanking him for this service. Click here to watch the video!
United Group is grateful for the dedication and hard work that Jacob has demonstrated throughout the years. We'll always appreciate his meticulous work, enthusiasm and loyalty to the residents he serves. It's a pleasure to have you on the United Group Team, Jacob! Thank you for everything that you do.
Name: Jacob Handal
Office: The Gables at Lakeside
Role: Maintenance Supervisor
1.) What do you remember about your first day with the United Group?
I was looking forward to a new experience in my life and learning new tasks and becoming a great asset in the company.
2.) Are you in the same role? What has changed about your role?
No, I was an assistant maintenance supervisor, and I`m now a maintenance supervisor. I have been given the opportunity to become a leader and input my knowledge in many ways.
3.) Tell us what an average day at the office looks like:
Plan the work for the day that needs to be done, sit with the manager and discuss any priorities or anything that needs to be done right away or in the near future, and check if anything needs to be ordered and place the order. I will also email a report for the new property, The Hamilton at Lakeside.
4.) Tell us one of your favorite early memories from your office:
Being a team, united, resolving any kind of issues together.
5.) What do you love most about United Group?
A company that is very solid and treats employees very well, and a place where you can grow and have a great future.
6.) What advice do you want to give yourself now, after working for the United Group during for past 20 years?
Always do your best and be dedicated to all you do.